There's a new concept café in town and nope, food is not the main thing sold here. 😛 Instead, you'll get to try out tons and tons of makeup and beauty products. Beauty lovers, rejoice!
This café is run by Malaysian personality, Nurul Shafiqah Shafie (fondly known as Pinkbox Cereal) and her husband, Mohd Iylia Fahmi Azmi. Initially, this café was a place where Pinkboxcereal stored her makeup stock and organised makeup classes. Upon the demand of her fans and the public, she decided to open the place up for people to enjoy makeup and beauty products for a small fee.
The Pinkbox Cereal HQ is a girly space, complete with walls decorated with splashes of baby pink. There are specific doll desk areas where guests can get comfortable as they try products for a fixed price of RM25/person. That's 2 hours of unlimited access to hundreds of different products that you've probably always wanted to try, but never had the heart to part money for.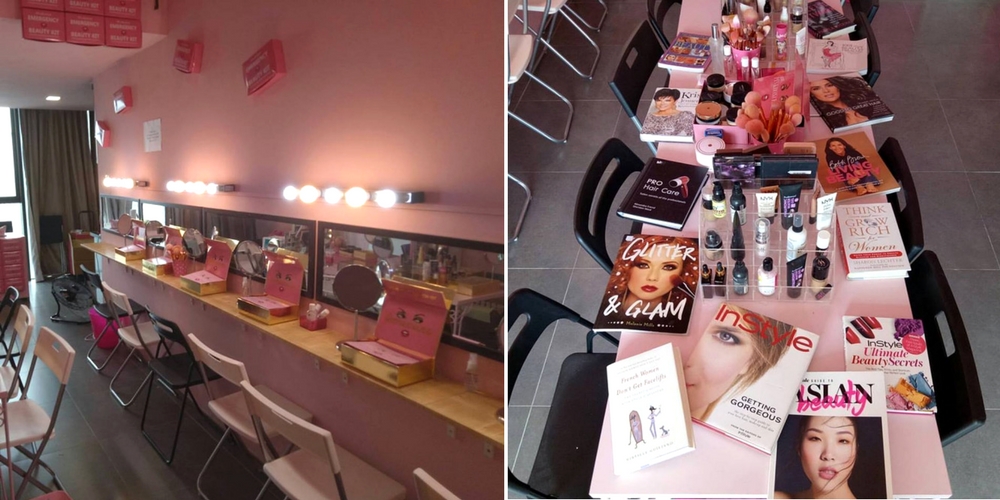 As such, this concept café is great for those who want to try out new makeup or beauty products before actually heading out to purchase full-sized products. Considering the amount of products available (both local and international brands), RM25 is a fair price to pay and it also includes coffee/tea and some snacks.
On top of that, you'll leave with a complimentary bright pink Emergency Beauty Kit, which is basically a little beauty kit of products. Whilst you prep for a big night out, get acquainted with other beauty lovers at the café as well. Men are welcome too, as there's a huge range of skincare and pampering products to sample.
Those who wish to just shop at the café may do so by paying the space a visit, for no charge. To get to this makeup café, first register as a guest at the lobby of the building. Next, head up to the C-18-01 unit where the café is located. Anyone up to having a makeup/pampering session at the Pinkbox Cereal HQ?
Pinkbox Cereal HQ
Hours: 2pm-8pm
Address: C-18-01, Soho 1, Empire Damansara, Jalan PJU 8/8, Damansara Perdana, 47820 PJ, Selangor
Website: Pinkbox Cereal HQ
All Image Credit: Pinkbox Cereal HQ