Cantonese people in Malaysia are known to be loud and proud of their culture, heritage and food. Being raised part-Cantonese myself, I take pride in my heritage, including my grandma's amazing cooking and the special festivals we celebrate from time to time.
Growing up, I got to enjoy the wonders that are Cantonese food. Char Siew, Wantan Mee, Roast Duck—those are just some of the uniquely Cantonese dishes out there. If you're drooling just thinking about these delicious dishes, we've rounded up a list of 10 Cantonese dishes and where to find them in KL.
1. Pei Pa Ngap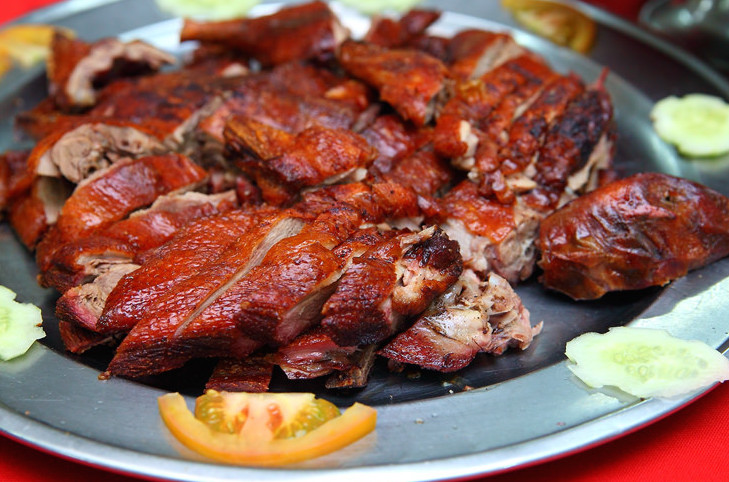 Pei Pa Ngap, also known as Pei Pa Roast Duck, is every Cantonese's favourite. During family gatherings, the essential dish to have is a whole roast duck to share. The key to a really good Roast Duck is definitely crispy skin and juicy tender meat. Sek Yuen Restaurant, Pudu is a restaurant which has existed even before Merdeka. Serving up traditional and authentic Cantonese cuisine, Sek Yuen Restaurant has retained its staple offering of Pei Pa Ngap over the last few decades.
Sek Yuen Restaurant
Address: 313-1, Jalan Pudu, KL
Tel: 03-9222 0903
2. Ngau Yoke Meen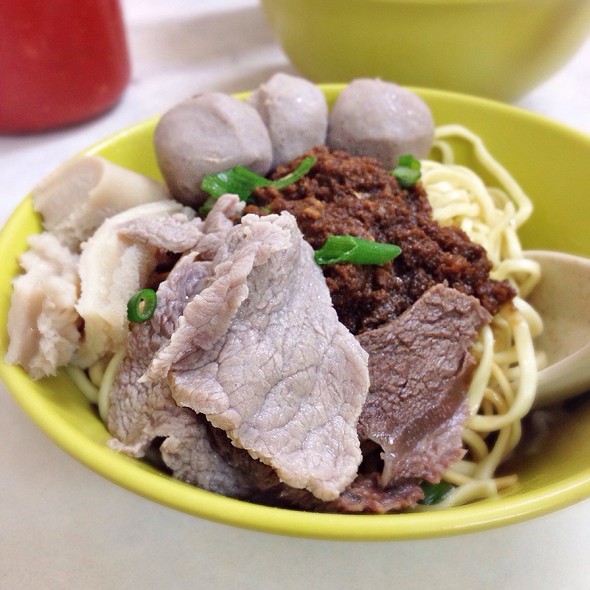 Ngau Yoke Meen, also known as Beef Noodles, is a dish with tender juicy beef fillets that has been cooked just nice. It is paired with piping hot soup and soft noodles. It's pretty much the best comfort food anyone can have and thinking about it makes my stomach grumble. The best place for beef noodles is a humble restaurant located near Central Market. Shin Kee Beef Noodles Specialist has one of the best beef noodles I've ever tasted and one which is well worth the try.
Shin Kee Beef Noodles Specialist
Address: 7A, Jalan Tun Tan Cheng Lock, 55100 Kuala Lumpur, Malaysia
Tel: 012-673 7318
3. Wantan Mee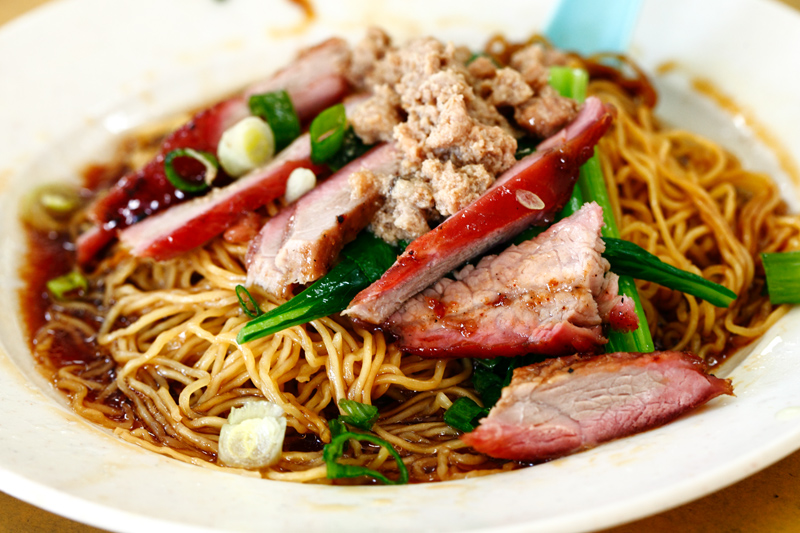 Wantan Mee is one staple Cantonese dish you can't go wrong with. A good plate of Wantan Mee is defined by its chewy and light bamboo noodles paired with the char siew which has to have a sweet crispy glaze to it. If you're drooling just looking at this picture, Kei Suk Wantan Mee is where I'd recommend you go to for one of the best authentic Cantonese Wantan Mee dishes in KL.
Kei Suk Wantan Mee
Address: Restoran Good Friend / Ban Lee Hin Kee Jalan Brunei, 55100 Pudu, KL
4. Siew Yoke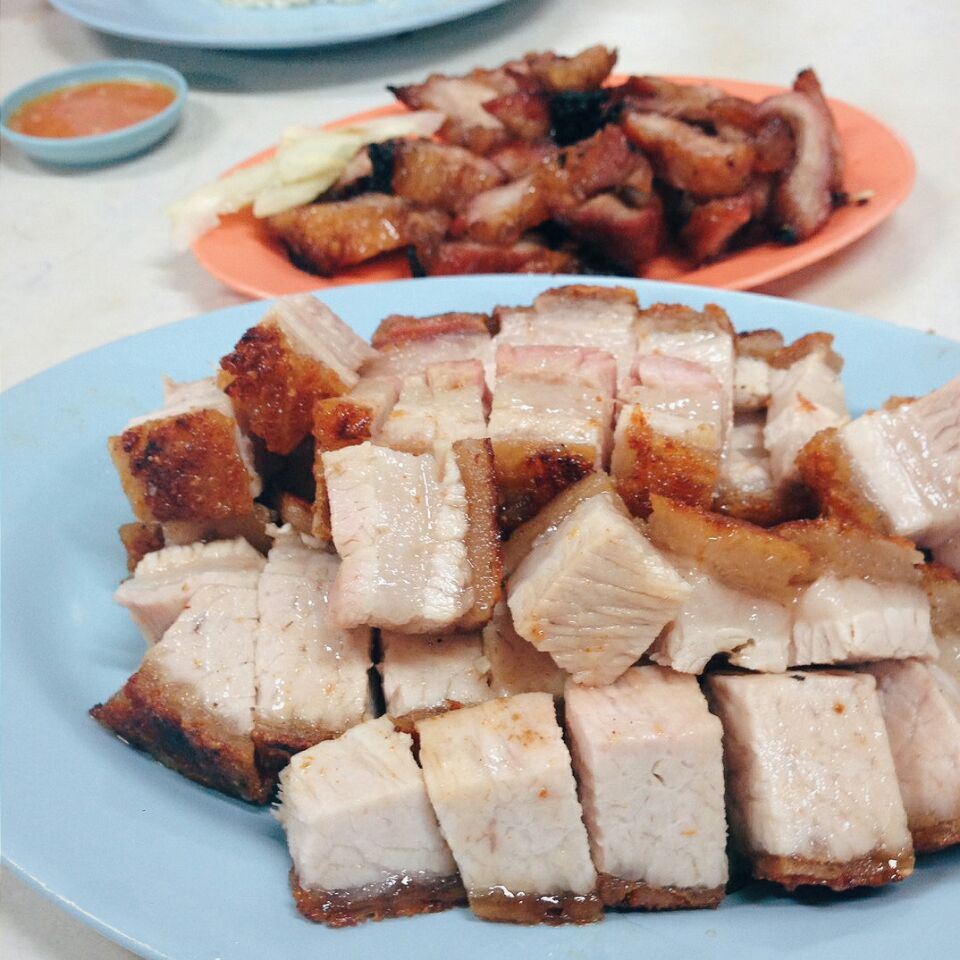 Siew Yoke, also known as Roast Pork, is a pork dish with crispy skin and it's juicy at first bite. Roast Pork is found in almost every Chinese hawker store and if you're looking for the best, Wong Mee Kee, located along Jalan Pudu is definitely the place to get your fill!
Wong Mee Kee
Address: 30, Jalan Nyonya, Off Jalan Pudu, 55100 Kuala Lumpur
5. Char Siew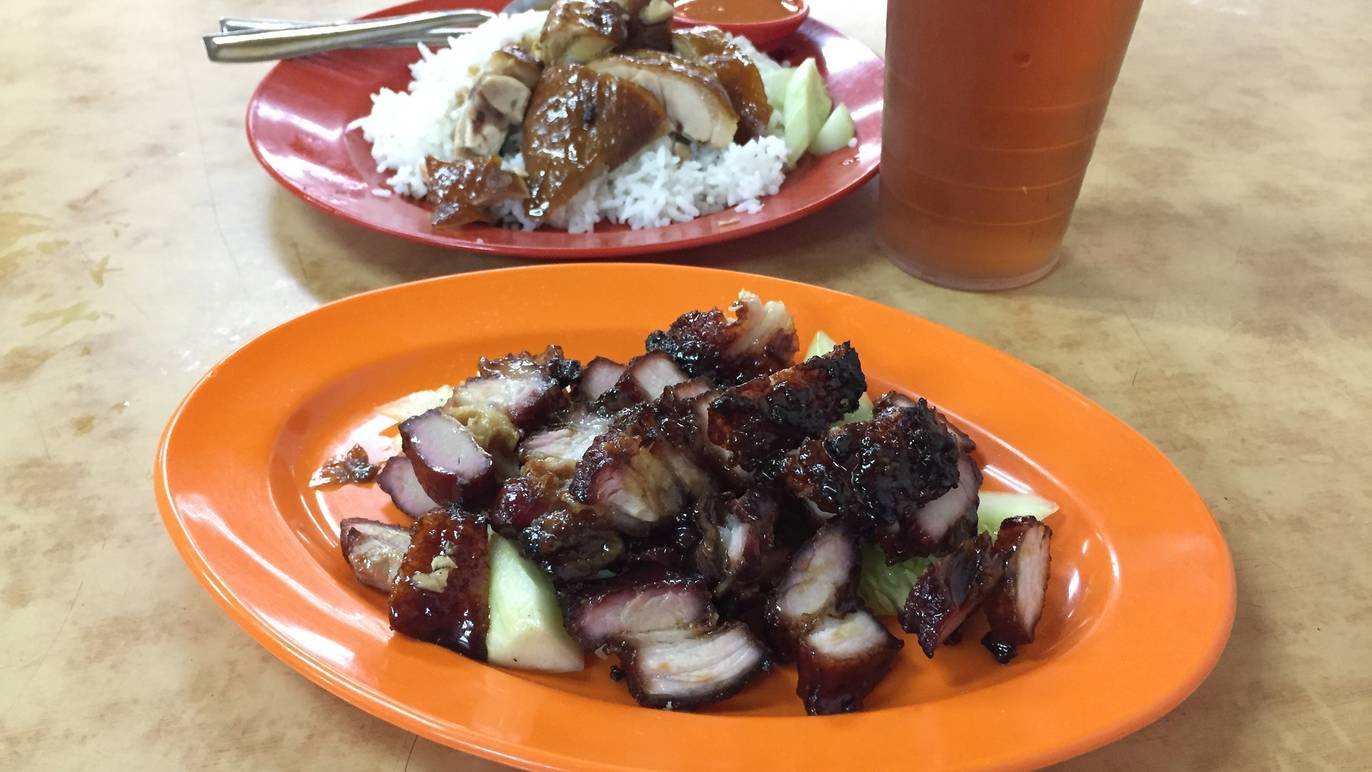 Char Siew is the Cantonese version of barbecued pork. The best kind of Char Siew is when the skin is slightly charred, the meat soft and succulent, and with a layer of fat that melts in your mouth. Restaurant Soo Kee has been around for almost 30 years so you can definitely trust the owner's expertise. We personally give this dish a thumbs up and we're not the only one. Past guests have raved about Restaurant Soo Kee's Char Siew and given it 5 stars too.
Restoran Soo Kee
Address: 373-1, Jalan Ampang, Batu 4, Kuala Lumpur, Ampang, 50250
6. Pei Dan Zhuk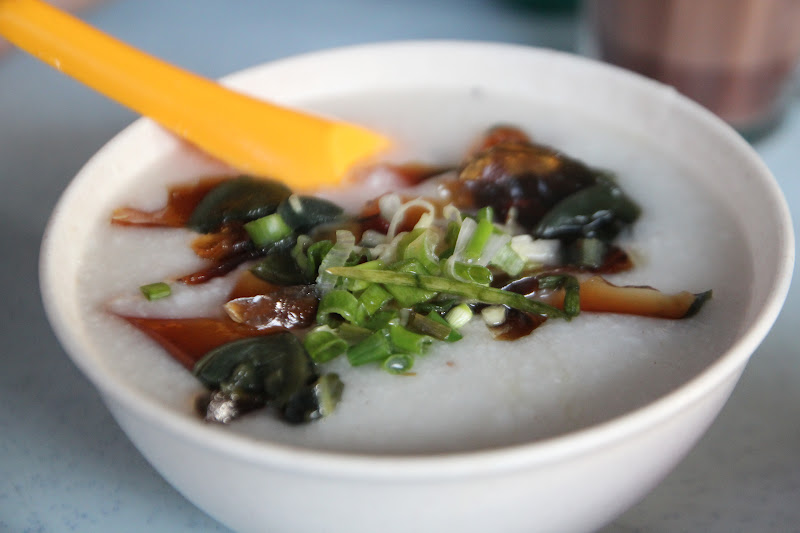 Hon Kee Porridge in Petaling Street is known for their smooth congee and delicious condiments to go with it. This humble stall has been around since 1949 and it has now expanded throughout Malaysia with a total of 6 outlets. Pei Dan, also known as Century Egg, is essentially preserved egg that has this smooth, bouncy texture to it. We'd recommend having this dish for breakfast or a light lunch.
Hon Kee Porridge
Address: 93, Jalan Hang Lekir, Sri Petaling, 50000 Kuala Lumpur
7. Chee Cheong Fun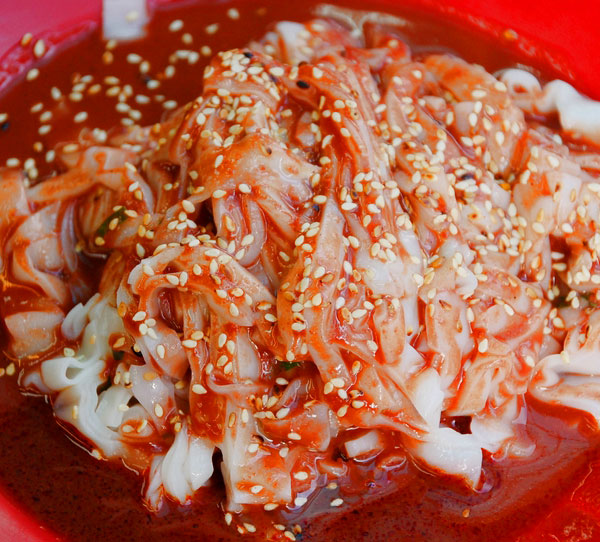 Chee Cheong Fun is Cantonese-style rice noodle rolls accompanied with sweet sauce and/or chilli sauce. This super simple and humble dish is tastier than it sounds. The best handmade rice noodle rolls recipe handed down through generations is served at Kim Lian Kee Restaurant in Petaling Street. This restaurant can be tricky to find but keep a close lookout for it.
Tip: It's located in a corner lot opposite Hong Leong bank.
Kim Lian Kee Restaurant
Address: 49-51, Jalan Petaling, Off Jalan Hang Lekir, Kuala Lumpur, Wilayah Persekutuan
8. Zhao Zhu Yoke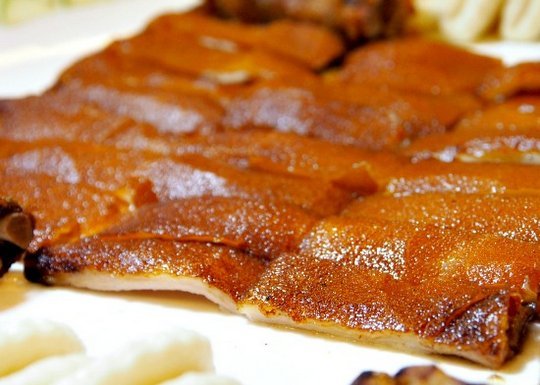 Zhao Zhu Yoke is also known as Traditional Roasted Suckling Pig. It's a dish that's crispy and juicy, marinated with salt, pepper and the five-spices powder before it is roasted to perfection. The best place to have a portion of this delicious dish is definitely at Restaurant Extra Super Tanker, located in Pelangi Damansara.
Restaurant Extra Super Tanker
Address: Club Drive, Pelangi Damansara, 47800 Petaling Jaya, Selangor, Malaysia
Tel: 03-7726 8877
9. Nga Po Fan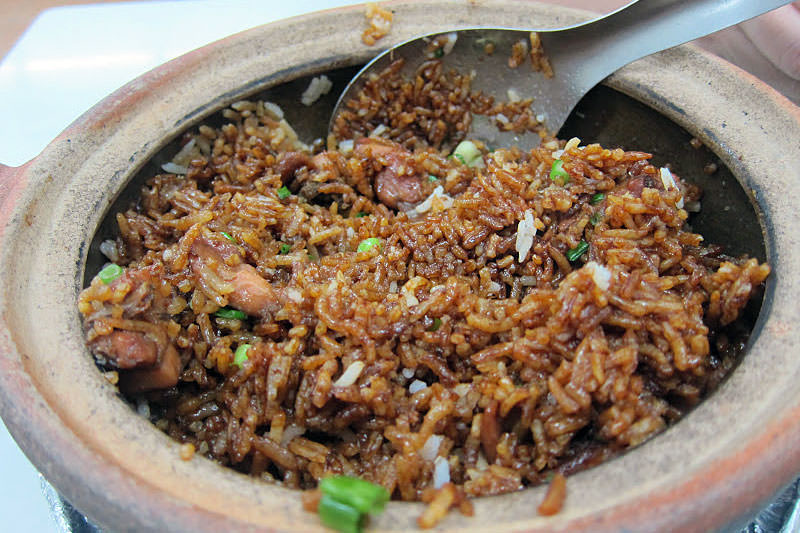 Nga Po Fan, also known as Claypot Rice, is a complete meal in a pot. What makes Claypot Rice so special is the juicy meat eaten with the soy sauce charred rice. The best place for authentic Cantonese-style Claypot Rice is Choong Kee Kampar Claypot Rice. This restaurant is run by a father-and-son team and they use the traditional method of charcoal stoves to create this dish.
Choong Kee Kampar Claypot Rice
Address: No 80, Jalan SS22/25, Damansara Jaya, PJ.
Tel: 017-871 7739
10. Zhong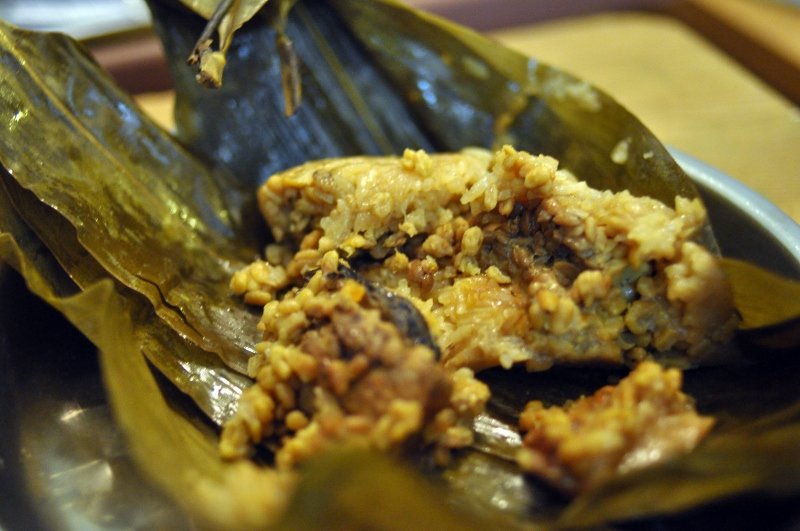 Zhong, also known as Rice Dumplings, is a glutinous rice dish stuffed with meat, mushrooms, beans, nuts and more. The best place in KL to get your fill of this is definitely at Ho Yoke Kee, a family-run stall just off Petaling Street. They have been selling these Rice Dumplings since the '60s and it's a stall which has withstood the test of time, having been around for more than 50 years.
Ho Yoke Kee
Address: No. 327 Jalan Hang Lekir, Kuala Lumpur City Centre, Kuala Lumpur 50000
Tel: 016 6957071