Within 30 minutes of opening for their dinner session, guests started filling up Kenny's Food Cart (KFC) until there were no empty seats left. We were busy enjoying our meal, so much so that we did not realise that we were slowly being surrounded by other hungry guests.
By the time we finished our dinner, an elderly couple was already waiting for a seat in the packed restaurant and so we promptly left. That's the extent of KFC's popularity, and I can understand why.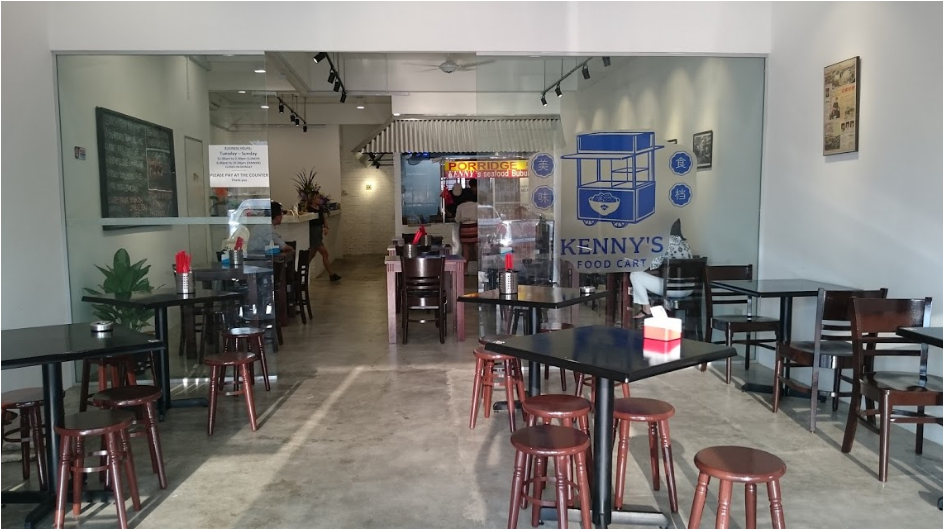 KFC had already built their own fan base with its initial roadside food stall business. Once located in Taman Bahagia, the stall had been in operation for 25 years. It was manned by 69-year-old Mr. Lock who now joins forces with his chef son, Kenny, to run a brick-and-mortar restaurant with the same name, bidding goodbye to the legendary stall.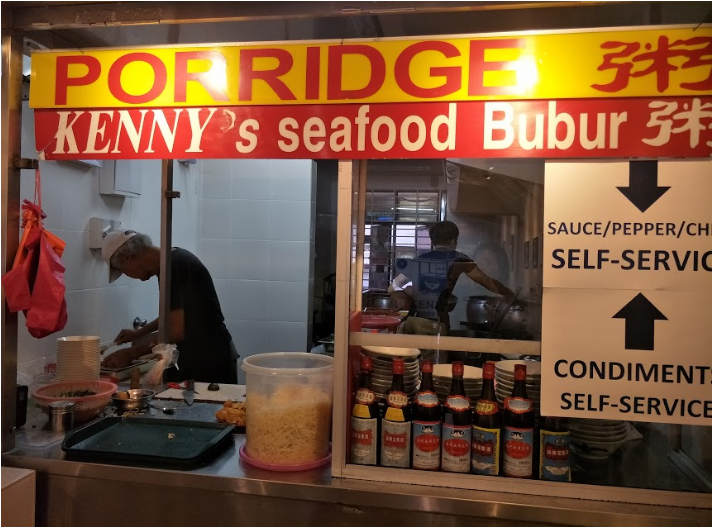 KFC officially opened its doors in June 2017 at Aman Suria and Mr. Lock manages the prepping and front-of-house operations whereas his son manages the kitchen operations. KFC specialises in Cantonese cuisine and their aim is to serve up meals reminiscent of those we'll have in our own home. Essentially if you miss mom's cooking, you'd be able to have something close to it at this restaurant.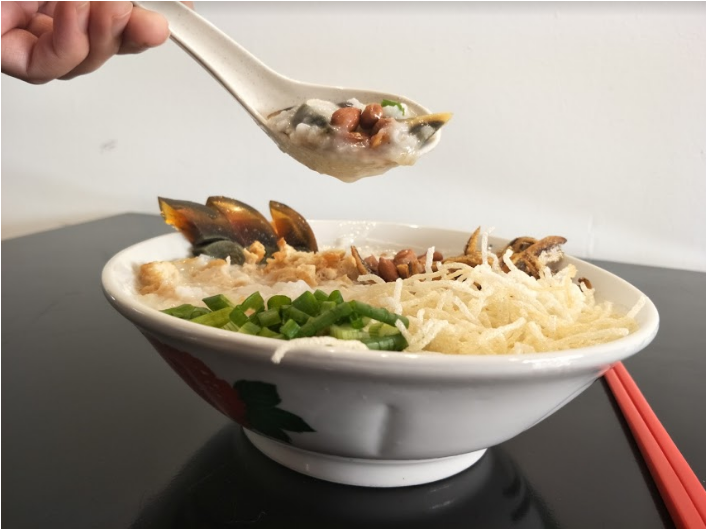 Teng Chai Chuk is a signature dish that many guests returned to for more than 2 decades at the original KFC in Taman Bahagia. It was also the first dish we sampled and naturally, we had high expectations.
This one's a classic, we were told. Back in the '80s, Mr. Lock was working as a chef in London at a Hong Kong cuisine restaurant. Teng Chai Chuk was introduced on the menu and it was at a time when Westerners were starting to develop a deeper interest in Chinese cuisine. That was originally how the Teng Chai Chuk came to be on KFC's menu—of course, with a signature twist by Mr. Lock himself.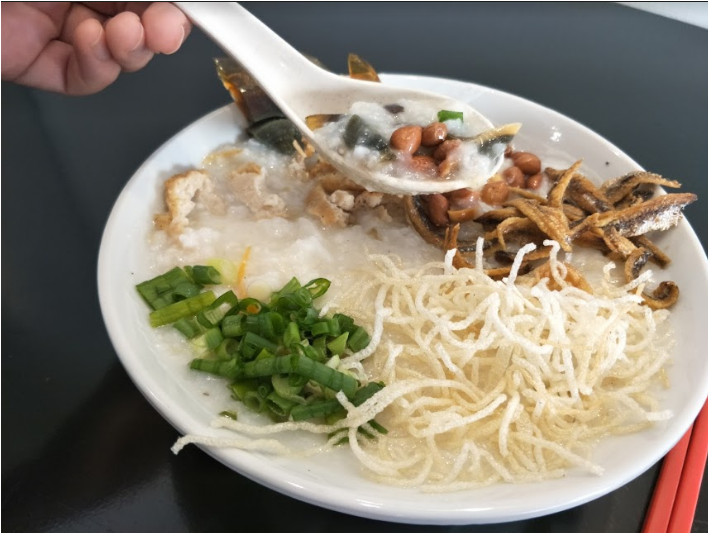 The Teng Chai Chuk (RM8) is a Cantonese-style porridge and it's slightly coarser and not very thick in texture. It comes generously filled with boiled and fried peanuts, fish paste, century egg, deep fried mee hoon, dried oyster and minced pork. With so many ingredients, it's best to mix it together and have each element in each bite. It's not savoury, which is good. However, if you prefer your meals to be slightly more flavourful, feel free to get some condiments from the front of the counter.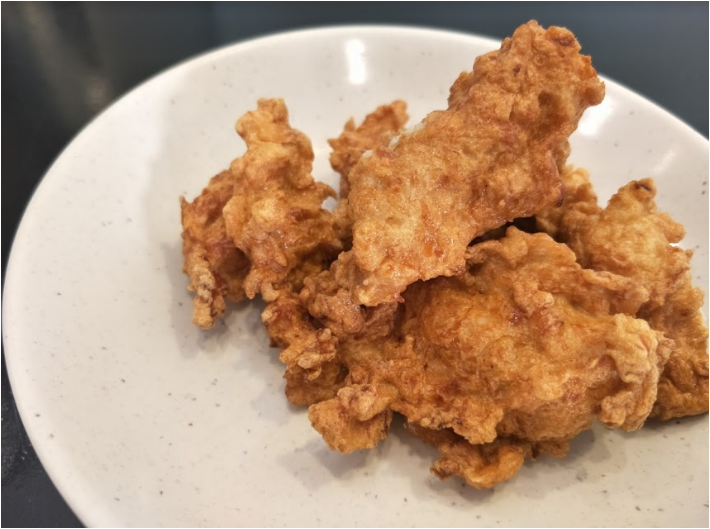 We enjoyed the Deep-Fried Fish Paste (RM4) with the porridge, but having it on its own is dangerous. Why? It was one of the dishes we devoured the quickest and we found ourselves in one of those tricky situations where everyone wanted the last piece but nobody wound up taking it. :p We liked how you can taste the fish in these fried delights and it's not packed with flour like some other fish pastes you might find elsewhere.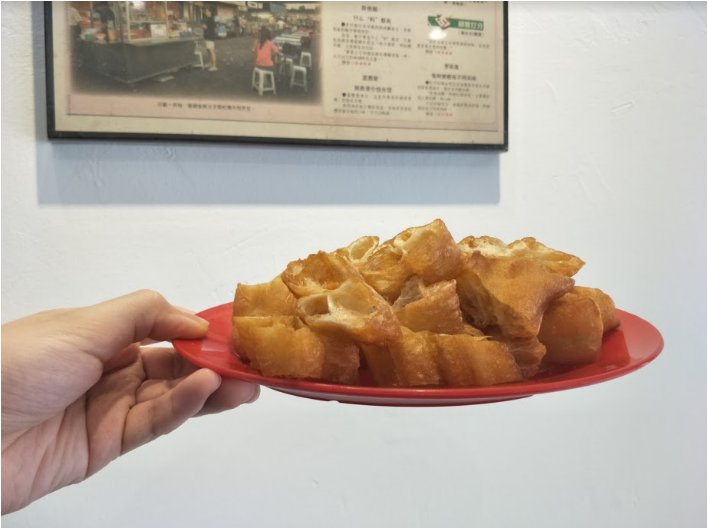 The Deep-Fried Crullers (RM1.50) were meant to be eaten with the porridge but we couldn't resist and started having one after the other, on its own. It's addictive, to say the least, and has a nice crunch to it. If you figure that it'd be a nice dish to order as an extra for sharing, we'd suggest ordering more than one plate as there'd probably be fights as to who gets the last piece—just saying. :p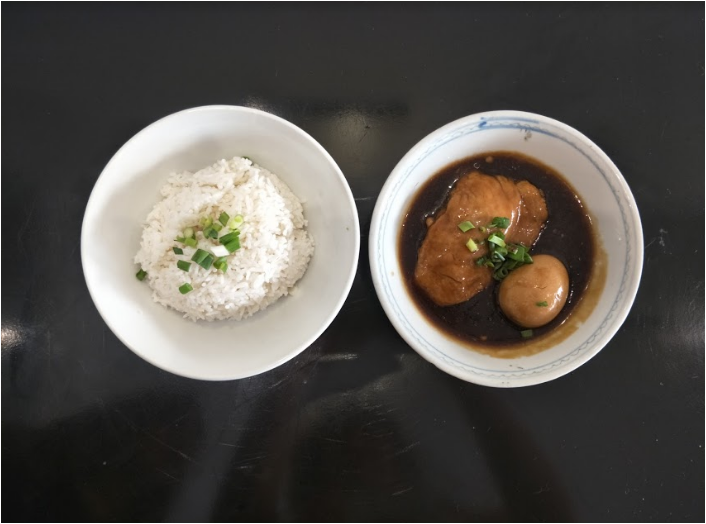 The Stewed Soy Chicken (RM7.90) comes with a bowl of rice. The chicken itself was tender and it's one of those proteins that just melts in the mouth. It also pulls away from the bone easily and is not overly salty. Though you can opt to have the stewed soy chicken with noodles or rice, I'd imagine that the rice would be a better choice. Even though we did not try the chicken with the noodles, the rice complements it well, perhaps because the rice absorbs the delicious sauce well.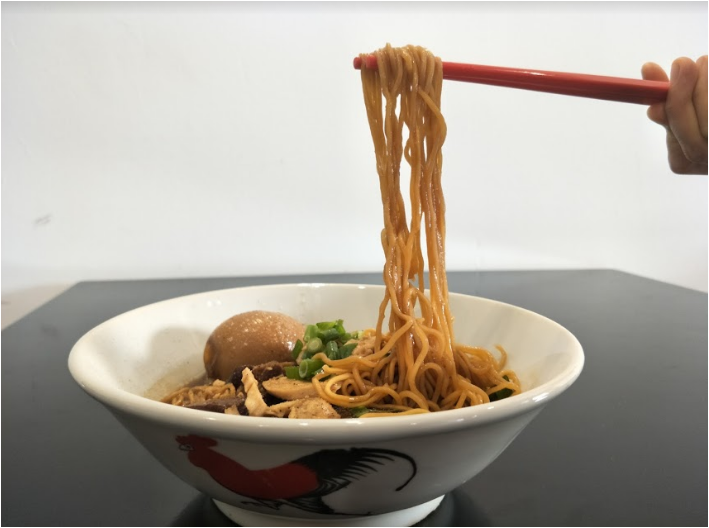 The Signature Mushroom Chicken (RM7.50) was one of the slower moving dishes on our table. Arguably, it did have strong competitors that it was up against. We felt that the yee mee noodles were pretty standard when it comes to noodles. It was not extraordinary, nor was it something we disliked (after all, we still finished every last bit of it).
Unfortunately, this dish just did not stand out quite as much for us as we would have liked it too. However, if you're a lover of yee mee noodles, you would enjoy how the mushroom flavour stands out and the shredded chicken bits are soft and melts in the mouth.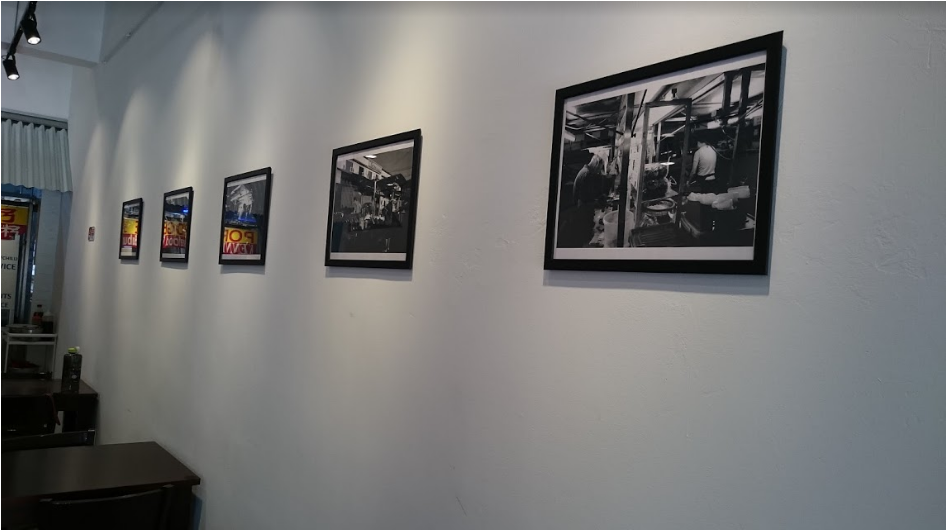 Stop by KFC if you're looking for meals that will evoke a sense of nostalgia and try the Teng Chai Chuk out yourself. Be sure to walk through the memory lane of black and white photo frames on the wall while you're there too. It documents KFC's journey from their early beginnings and frankly, it's nice to see how far they've come—from their humble beginnings in Taman Bahagia, to an ever-crowded brick-and-mortar restaurant in Aman Suria.
Kenny's Food Cart
Hours: Tuesday-Sunday: 11.30am-2.30pm, 6pm-10pm (Closed on Mondays).
Address: K-G-11 Jalan PJU 1/43 Aman Suria, Petaling Jaya
Website: Kenny's Food Cart
Tel: 03-7497 2199