Forêt Blanc is a dessert house that offers something different to your usual café hop. One can easily spot this store amongst the shoplots in Petaling Avenue, Taman Sri Manja. They're the brightly lit store mostly decorated in simple splashes of white and black paint. What distinguishes this eatery from the rest would be their unique concept of serving desserts.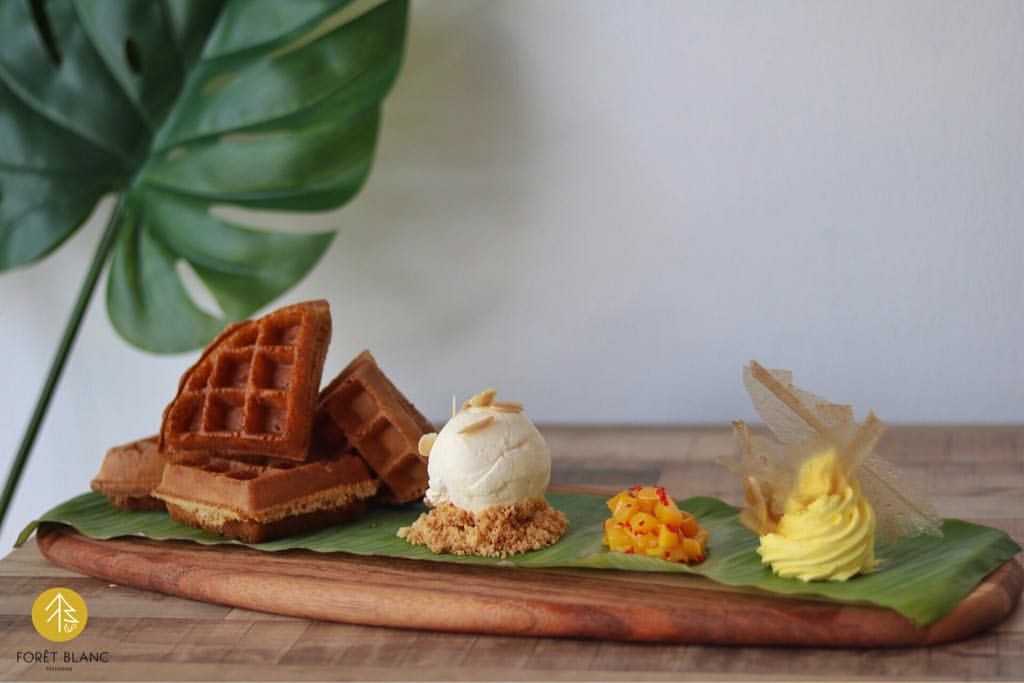 Have you tried desserts on a banana leaf before? Forêt Blanc would be one of the first dessert houses in KL to offer such a concept. Borrowing a leaf (pun intended) from nasi kandar restaurants, the dessert served on the banana leaf isn't typical either.
Each Banana Leaf Dessert (RM24.90) comes with a waffle infused with the flavour of chai spices, a scoop of coconut ice cream, mango jelly with chilli and last but not least, a mango curry chantilly with balsamic rice vinegar crackers.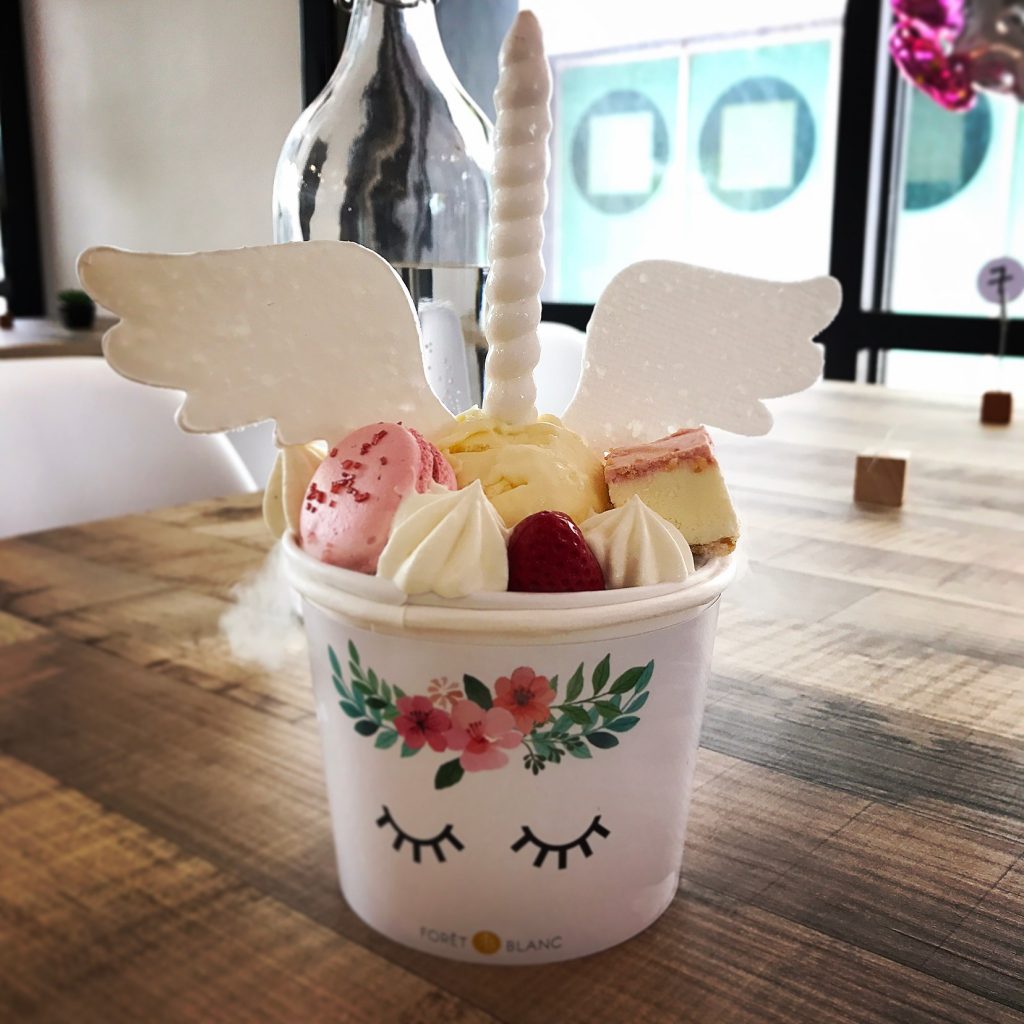 An Instagrammable snack they offer is the popular dessert served in a unicorn-decorated cup. The Berry Mallow Corn comprises of gourmet strawberry, vanilla ice cream, meringue, macaron and even cubes of cheesecake too. This dessert is priced at RM24.50.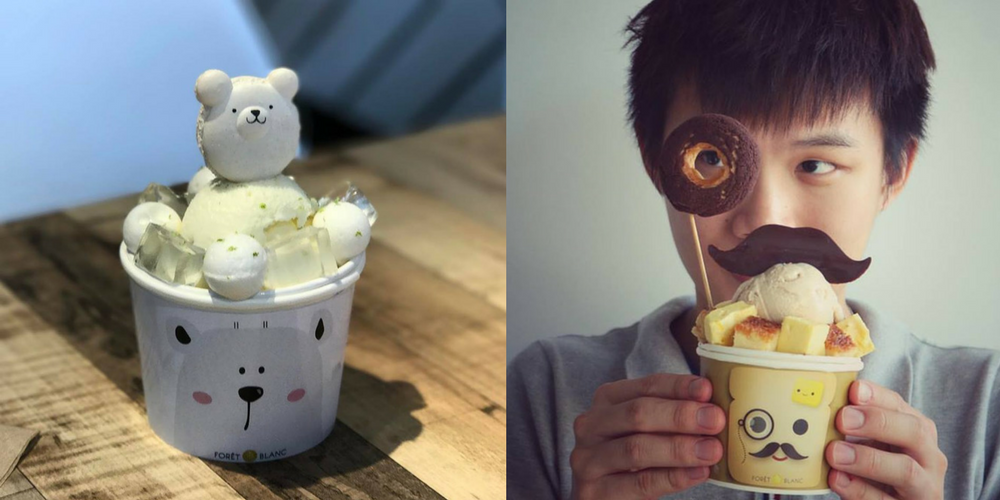 Yet another adorable dessert to try is the Happy Polar Bear (RM24.50). It features yogurt lime ice cream, macaron and cubes of jelly. Meanwhile, Mr. Brown (RM22.50) is a dessert for those who enjoy savoury flavours. It comes with a signature brown butter ice cream, butter marshmallow and some really sinful pecan praline.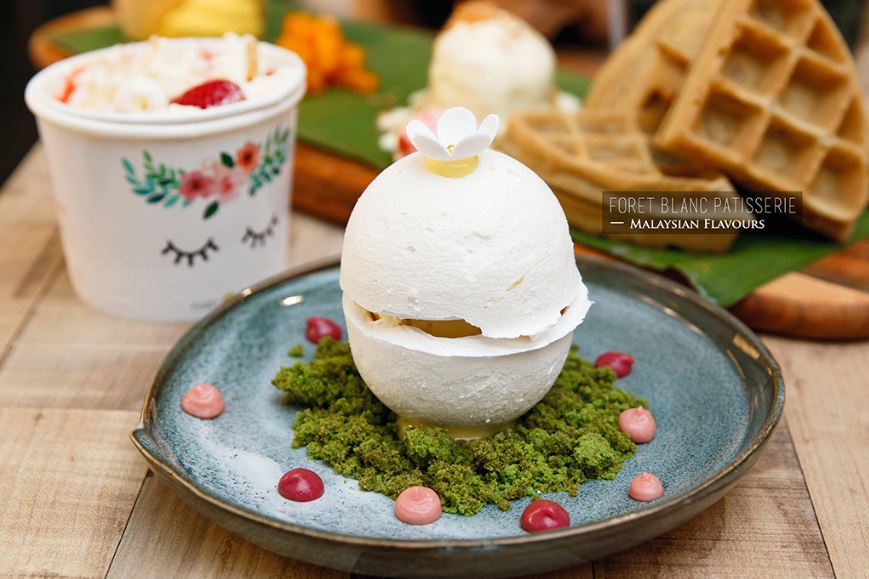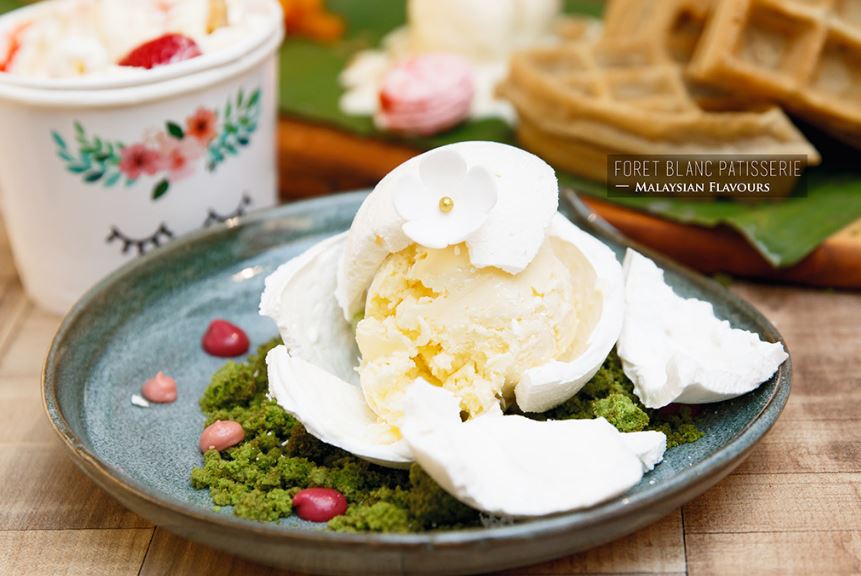 Ballerina, one of Forêt Blanc's signature desserts is as graceful as its name implies. In fact, you have to break the layers in order to enjoy the dessert. Ballerina comes with yuzu ice cream encased in a sphere shaped meringue as well as some green tea sable to add an extra layer of crunch.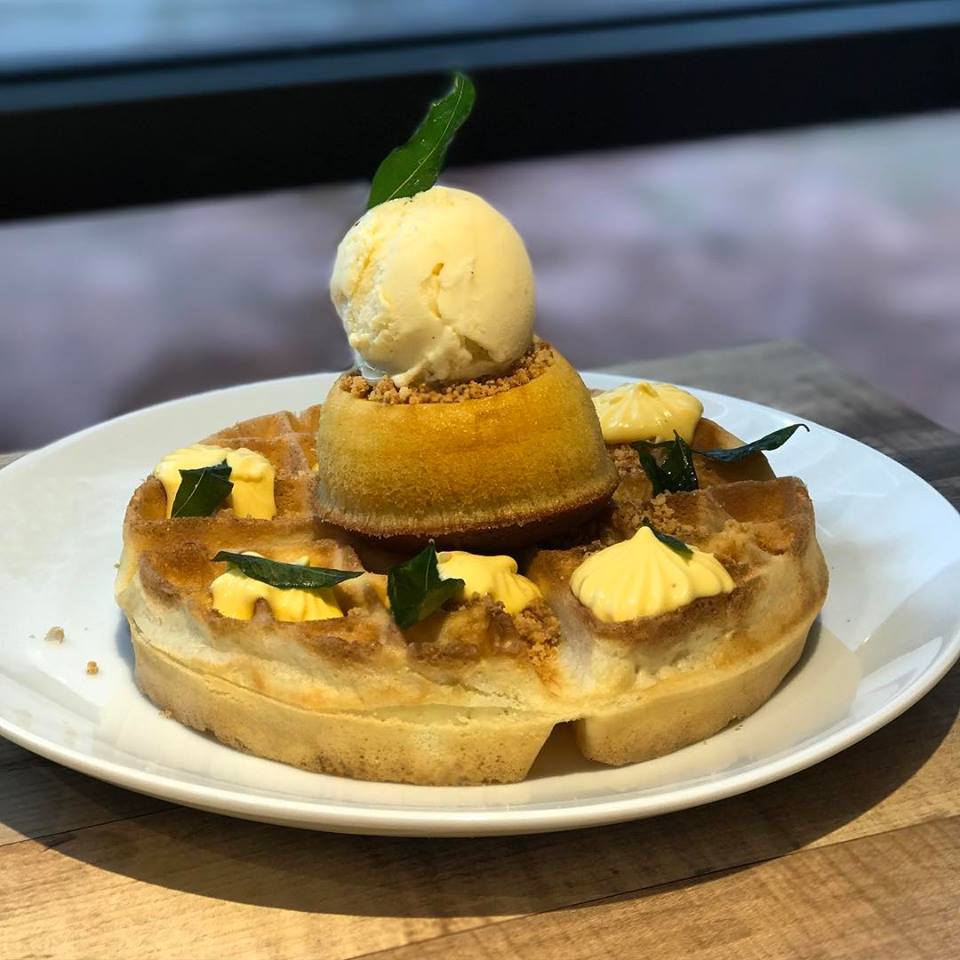 The Triple Salted Yolk Lava Waffle (RM24.90) is definitely a meal to try for any die-hard salted egg yolk fans out there. It comes with a waffle, molten lava cake, butter, curry leaves and a vanilla ice cream. This is a huge dish and one that should either be attempted by 1 hungry person or shared amongst 2 people.
Forêt Blanc doesn't cease to surprise with the flavours they offer and it's cool that they have a Malaysian twist to their desserts too. It's clear that we Malaysians adore our banana leaf rice and this dessert house expertly weaves in this culture into the plating of their meals as well as its flavours. Curry leaves, chai flavours and mango curry chantilly are not the usual ingredients you'd find in a dessert and that's what makes Forêt Blanc one place worth trying.
Hours: Tuesday-Friday & Sunday: 1pm-10pm, Saturday: 1pm-7pm. (Closed on Mondays).
Address: 49G, Jalan PJS1/50 Petaling Utama Avenue, Kuala Lumpur
Website: Forêt Blanc
Tel: 03-7773 1379