Cold-pressed juice are all the rage among Malaysians and this could be due to the nutritional benefits which it provides, and not to mention the Insta-worthy bottles they come in. Cold-pressed juices contain more nutrient as compared to juices that are extracted from the fast moving blades.
A normal blender with fast moving blades would help to extract juice faster than a hydraulic press juicer but cold-pressed versions ensure that you get the nutrients from the fruit without breaking any enzymes.
Here is a list of the 16 stores in Klang Valley that you should really try if you enjoy flavourful and healthy juices.
1. Impressed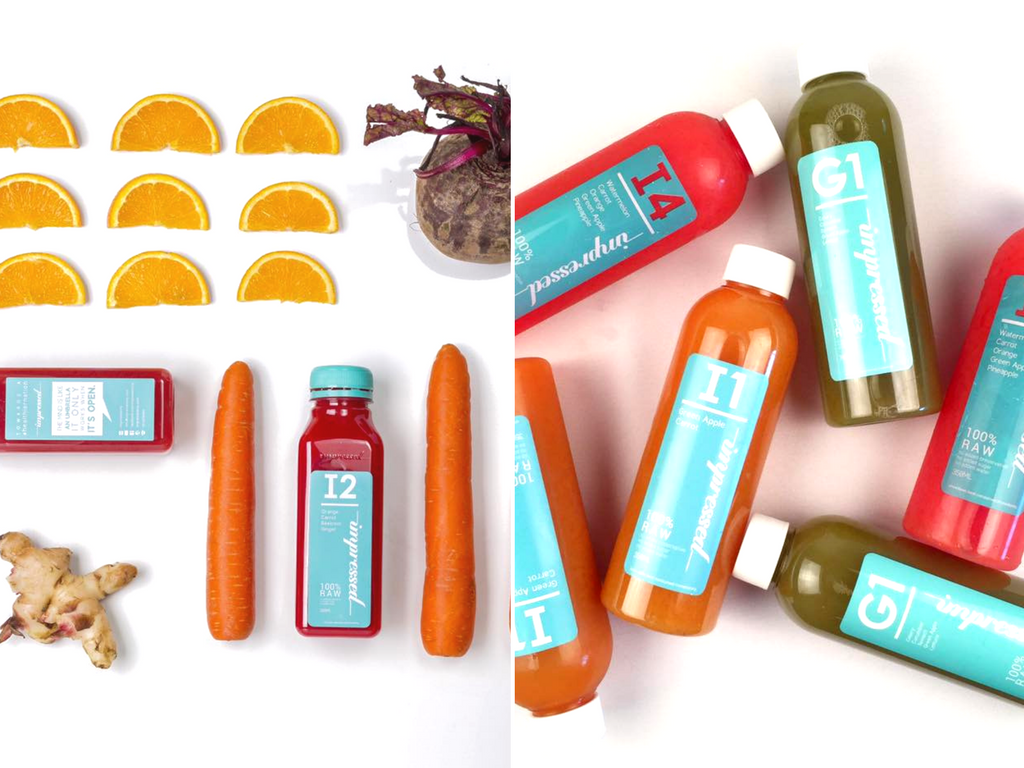 Bet you would be impressed by Impressed's offerings. You could order them online but they do have a store in NU Sentral Shopping Centre as well. All of their cold-pressed juices has an alphabet and a number. For instance, I6 is the beetroot, watermelon and mint juice or G1 is the celery, cucumber, spinach, green apple and lettuce juice.
Impressed has more fruit cold-pressed drinks as compared to green juices, and their prices range from RM40 to RM72. The prices defer depending on different delivery zones as well as whether you choose to have a self pickup or online delivery.
Hours: 10am-10pm, Monday-Sunday.
Address: Lot 50A, LG, Nu Sentral Shopping Centre (Next to Centre Court), Jalan Stesen Sentral 5, Brickfields, 50470 Kuala Lumpur.
Website: Impressed
Tel: 03-2276 1290 / 019 452 2200(For Whatsapp orders).
2. JoozeBlendz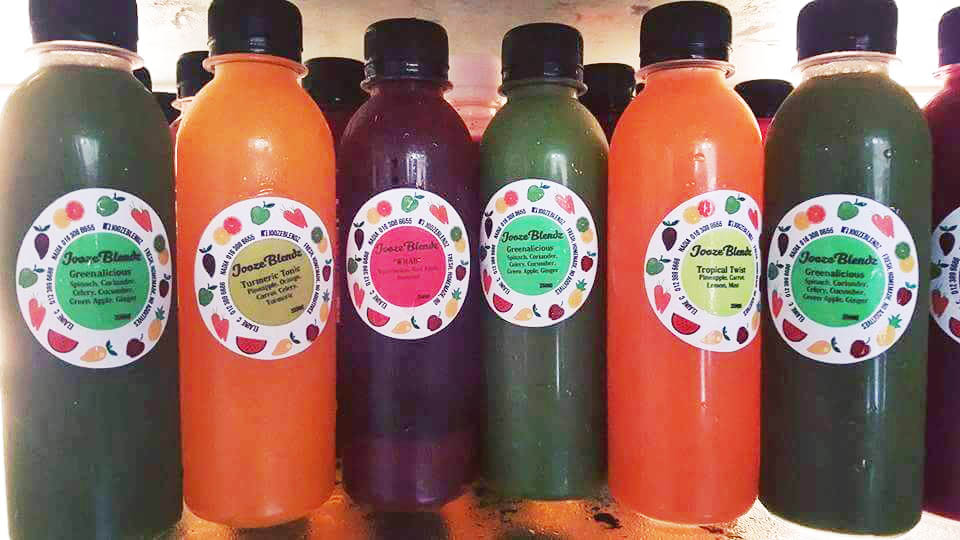 Want to improve your vision, improve your complexion, or boost your immunity? JoozeBlendz has a juice known as Tropical Twist and it comprises of fruits and vegetables such as pineapple, carrot, lemon and mint juice. All these ingredients are said to improve your vision. Or why not try their "WRAB" juice instead? For JoozeBlendz, it stands for watermelon, red apple and beetroot which are all elements to fight against anging. It costs only RM8 for a 250ml cold-pressed juice at JoozeBlendz.
JoozeBlendz provides more fruit cold-pressed juice options instead of green juices and for orders, it can be done through contacting their phone number or Facebook page. Free delivery will be subjected to certain terms & conditions and is based on the area you stay in.
Website: JoozeBlendz
Tel: 012-389 6686/016-3088655 (For Whatsapp/Call/SMS).
3. Juice D' Fruitz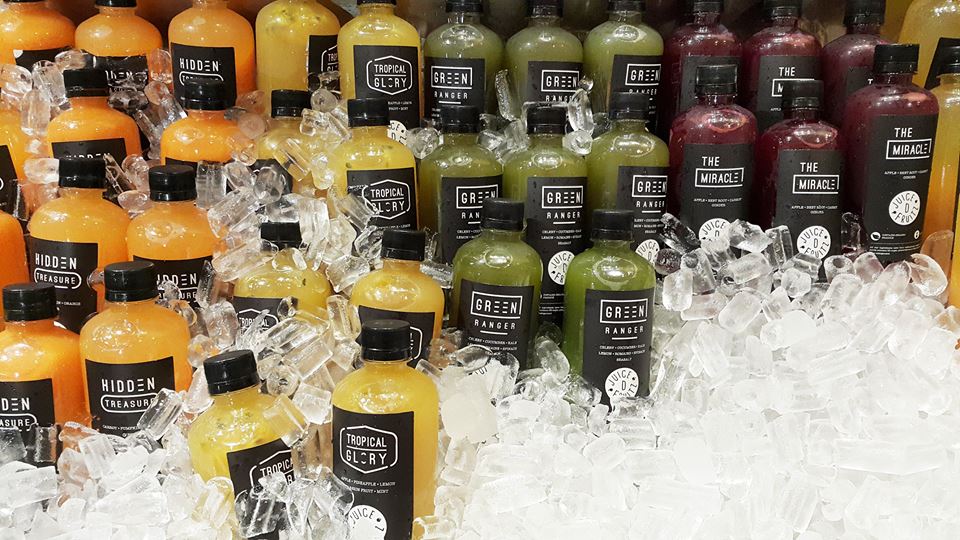 The Red Jewel is one of the bestselling cold-pressed juices at Juice D' Fruitz. Red Jewel is basically the combination of pomegranate, red apple and lemon. If you love passion fruit, perhaps you should try their Tropical Glory that includes apple, pineapple, lemon, mint and also passion fruit!
Juice D' Fruitz loves to mix up vegetable and fruity options for their cold-pressed juices which ranges between RM14.90-Rm16.90. You should definitely stop by their store to grab yourself a bottle of Juice D' Fruitz!
Hours: 10am-10pm, Monday-Sunday.
Address: D-03-G, SetiaWalk, Persiaran Wawasan, 47160 Puchong.
Website: JuiceDFruitz
4. Juus 
Carrot, orange and turmeric? Juus Juice named this combination of food as Power Cot. It is good for flu, cold, digestion, cholesterol fighting and anti-aging. How about try their blend of Simply So Good? Simply So Good is the mix of apple, lime, mint and pineapple!
Juus has more fruit cold-pressed juice options, but they also have vegetable cold-pressed drinks. Juus' options cost RM6.90 for a Midi bottle (150ml) and RM11.90 for a Power bottle (300ml). You could visit their store or even order online to enjoy the drink wherever you may be.
Hours: 10am-8pm, Monday-Sunday.
Address: Lot No. 100.P1.015, Level P1, The School, Jaya One, No. 72A, Jalan Universiti, 46200 Petaling Jaya.
Website: JuusFood
Tel: 03-7931 8805
5. La Juiceria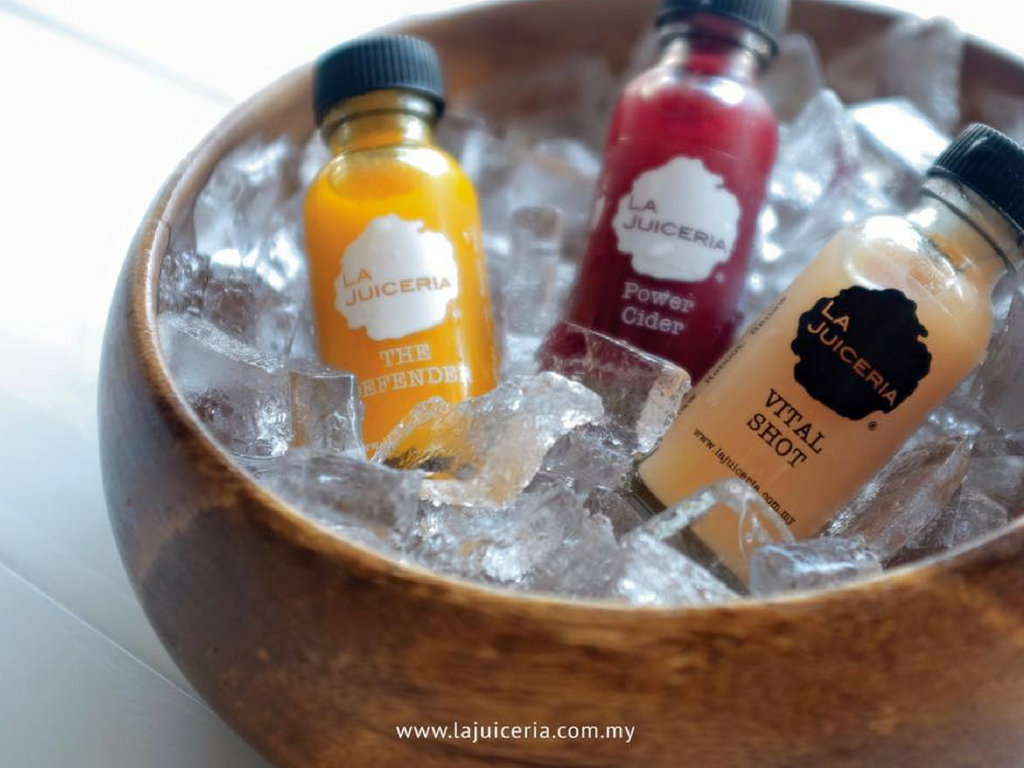 La Juiceria offers the power shots which has 3 different flavours. Bestseller, The Defender is a blend of turmeric, lemon, wildflower honey and organic cayenne pepper. The Vital Shot on the other hand is a blend of ginger, lemon and wildflower honey. The Powder Cider has a blend of beetroot, apple cider vinegar, orange and cilantro and is one of the favourites at La Juiceria.
La Juiceria has a perfect mix of juice and vegetable cold-pressed drinks. For the Juice Pack, it will cost you around RM89-Rm178 for online purchases of 6-12 cold pressed juices of your choice. Hence, if you ordered online, you can enjoy your juices at home for a few days. However, La Juiceria is also available at several locations in Klang Valley.
Website: LaJuiceria
Tel: 03-2035 5911
6. LifeJuice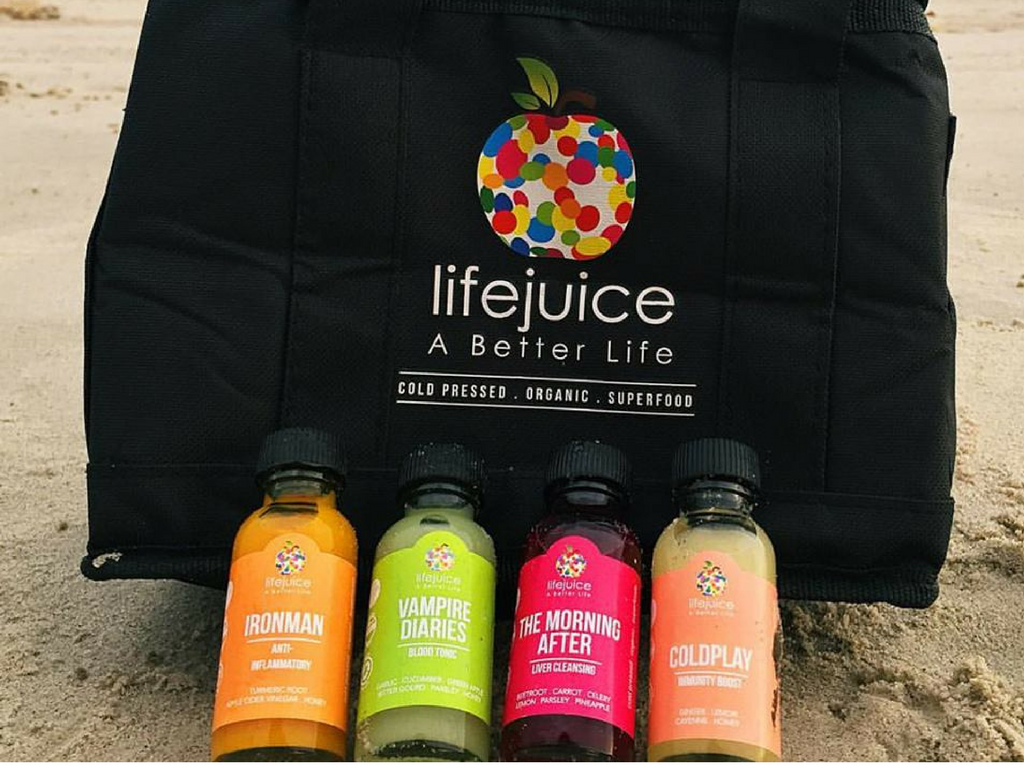 Ironman, The Morning After, Coldplay and Vampire Diaries. Nope, that's not a pop culture reference. They're in fact Life Juice's booster shots. These flavours aim to aid in anti-inflammatory, liver cleansing, immunity boost as well as blood tonic benefits. If you love nuts, dates and soy milk, try their Nutty Professor which contains almond, cashew, hazelnut, dates, raw cacao and soy milk. Your choice, your pick!
Life Juice has a wide selections of fruit and vegetable-based cold-pressed drinks. Unlike other juiceries, they also have cold-pressed drinks made up of nuts. Prices range between RM5.90 to RM18.90. Lots of selections, lots of nutrients! Visit one of their 12 outlets or have them delivered to your doorstep through online purchases.
Hours: 10am-10pm, daily.
Address: GK-111, Ground Floor, One Utama Shopping Mall, Bandar Utama City Centre, Lebuh Bandar Utama, Bandar Utama, 47800 Petaling Jaya.
Website: LifeJuiceCo
7. Lifestyle Juicery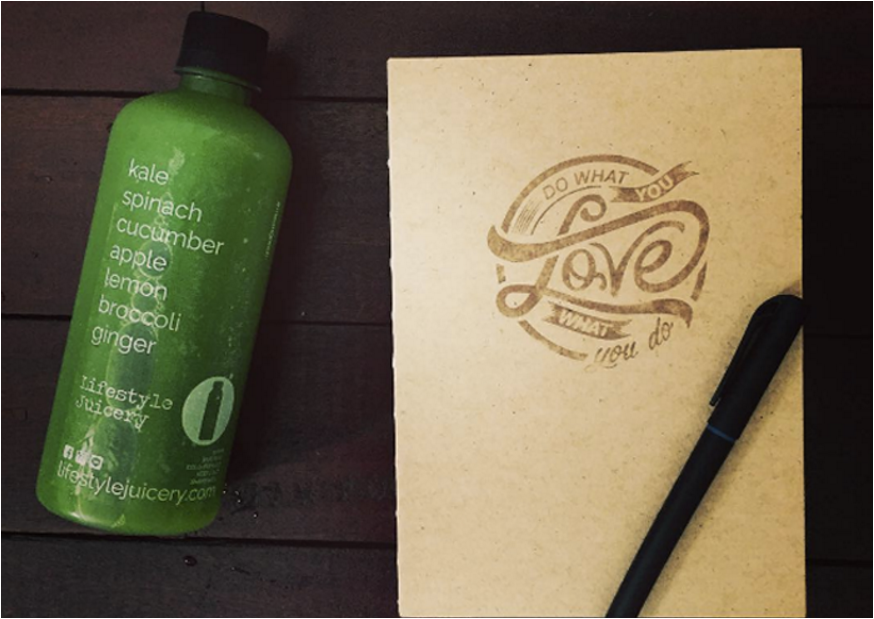 The Hulk! Nope, I don't mean the Hulk from a certain Marvel movie. I meant the juice from Lifestyle Juicery which is in fact a combination of kale, cucumber, lemon, apple, celery, ginger and basil! Another unique flavour that makes this juicery stand out is their Coconut Groove drink! It is just made up of coconut and cinnamon stick!
All of their juices are vegetable-based and you could get them at RM18 for 300ml or RM25 for 500ml. Lifestyle Juicery will deliver their juices right to your doorstep!
Website: LifestyleJuicery
Tel: 03-7734 5945
8. One2Juice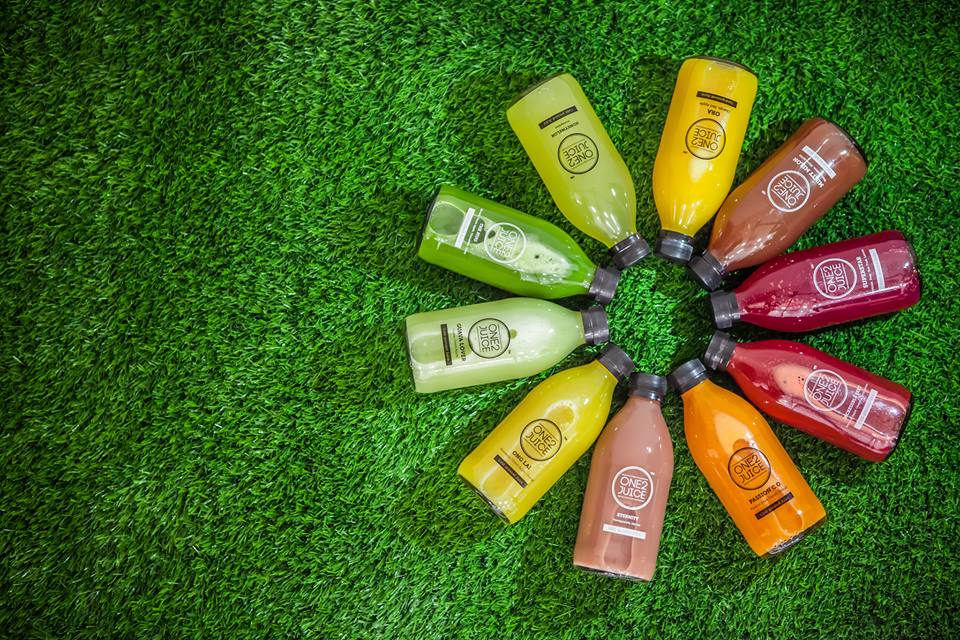 Love honeymelon? Well, why not try out One2Juice's honeymelon and you probably would crave for more! All their juices are cold-pressed. So, even with just one fruit, it contains more nutrients. If you love beetroot, you could try out their Incredible Beet that contains beetroot, carrot, red apple, orange and lemon! One2Juice offers you lots of fruit cold-pressed drinks from RM8 to RM16 per 300ml bottle depending on the ingredients in it.
Hours: 10am-10pm, daily.
Address: IPC Shopping Centre, Mutiara Damansara.
Website: One2Juice
9. Press Beyond Juice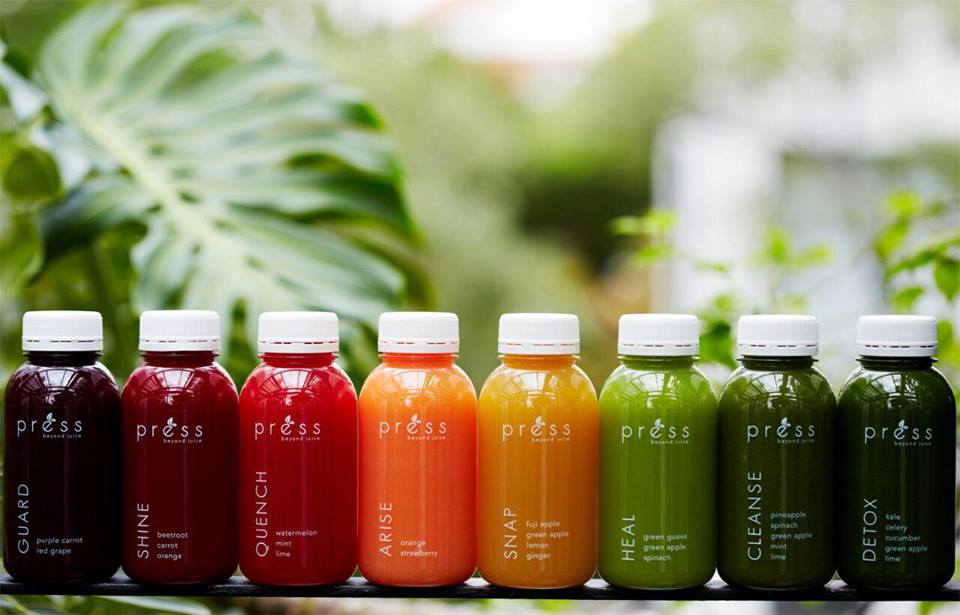 Press aims to serve juices that they themselves would serve to friends and family. I think this tells it all because you would not serve something of less value to your loved ones, now would you? Press has different juices that serves different purposes. There's 'Guard' which has purple carrot and red grape, and it is good for anti-aging and memory boost.
All cold-pressed juices by Press will only cost you RM10.90 per bottle. Different bottles will serve different health purposes. The ingredients are mainly made up of fruit but some of the flavours involve one to two vegetables. You could visit their store or even just purchase their juices online.
Hours: 8am-6pm, Monday-Friday.
Address: Level 5, Menara Shell, 211 Jalan Tun Sambanthan, 50470 Kuala Lumpur.
Website: PressJuice
10. Smooshie Juice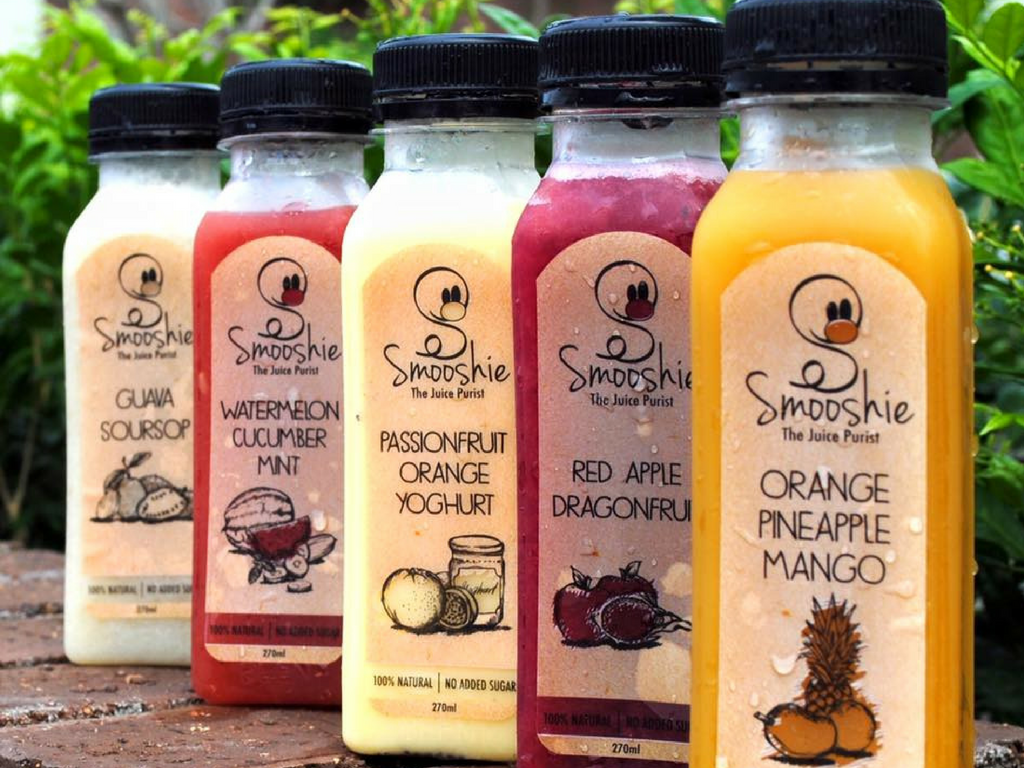 Smooshie Juice has been in Malaysia for long and they have only one clear purpose which is to serve Malaysians pure and affordable healthy juice. Their Seasonal Special would be pineapple, coconut, lemongrass, chia and basil seeds. Just the sound of it tastes delicious and satisfying and it sounds like something you'd like to have while on holiday.
Smooshie serves cold-pressed drinks in fruit flavours only and they will cost you RM8.50 each. Smooshie Juice supplies their Smooshies to multiples locations in Kuala Lumpur, Petaling Jaya and Penang.
Website: SmooshieJuice
Tel: 012-406 8211 (Giant) / 012-420 8090 (Donkey)
11. The COOL Juice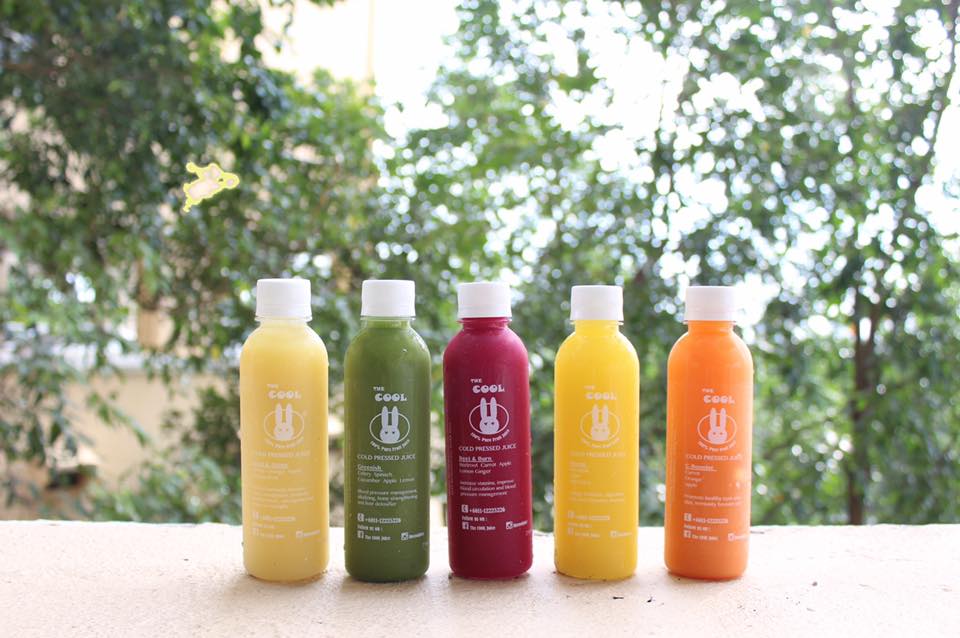 How about trying Seed and Stone? Seed & Stone is made up of guava, apple, orange and passion fruit! This is specifically for fruit lovers. For those who love green juices, perhaps you should try out their Greenish juice. It is a combination of celery, spinach, cucumber, apple and lemon!
Per bottle of COOL Juice, it will cost you RM7.99. They will have more flavours in the future but so far they provide 4 kinds of fruit cold-pressed drinks and 1 vegetable cold-pressed drink. The COOL Juice only provides delivery service and to get yourself a bottle, just drop them a call or Whatsapp your orders over to them. Juiceries tend to come in bottles of multiple flavours but The COOL Juice stands out by having key flavours that would suit every Malaysian.
Website: TheCOOLJuice
Tel: 011-1222 5226
12. Trattoria La Bonta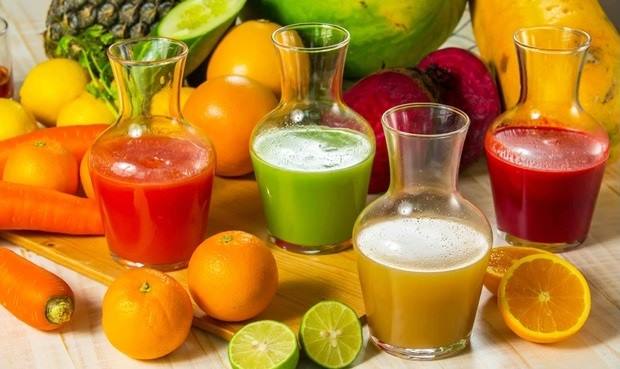 Trattoria La Bonta is a health food restaurant that serves customer salads, pastas and of course, cold-pressed juice! Cholesterol Terminator with the combination of cilantro, celery, apple, grapefruit and ginger is one of its bestsellers! Another favourite would be exclusively for berry lovers. The Very Berries juice comes with strawberry, blueberry, apple and lemon blended together perfectly.
You could get fruit or vegetable cold-pressed drinks from them for just RM13.50 or RM15 for 330ml. Trattoria La Bonta has their own brick and mortar store, but for those who prefer online delivery, the store is also in collaboration with Foodpanda for delivery! You could have their cold-pressed juice now during your lunch break—what a treat!
Hours: 8am-6pm, Monday-Saturday.
Address: Lot 3 & 3A, Block B, Gleneagles Hospital Kuala Lumpur, 282, Jln Ampang, 50450 Kuala Lumpur.
Website: La Bonta Trattoria
Tel: 03-4266 3868
13. Unicorn Pressed Juice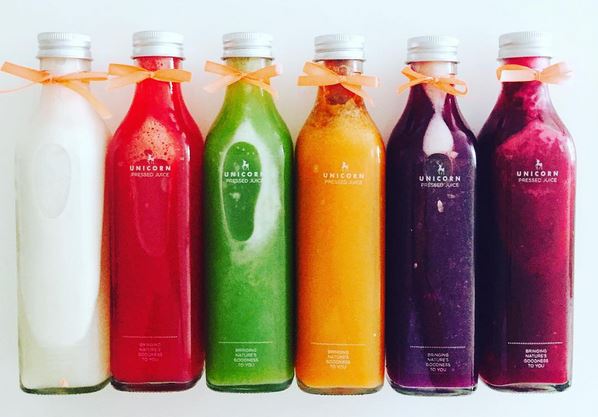 Unicorn Pressed Juice has been another great brand in providing quality cold-pressed juices! With the vibrant colours and tastiness, their juice is just fun and lively! One of their must-try juices would be the Indigo Juice with purple cabbage, pear, green apple, and Himalayan rock salt.
For 6 bottles of cold-pressed juices, it would cost you RM100 to RM130. If you love vegetable cold-pressed drinks, Unicorn Pressed Juice will be your choice because they have more flavours with vegetables in it. If you want to try out Unicorn Pressed Juice, you could order it online and they will deliver it to you!
Website: UnicornPressedJuice
Instagram: @unicornpressedjuice
14. Upbeat Health Bar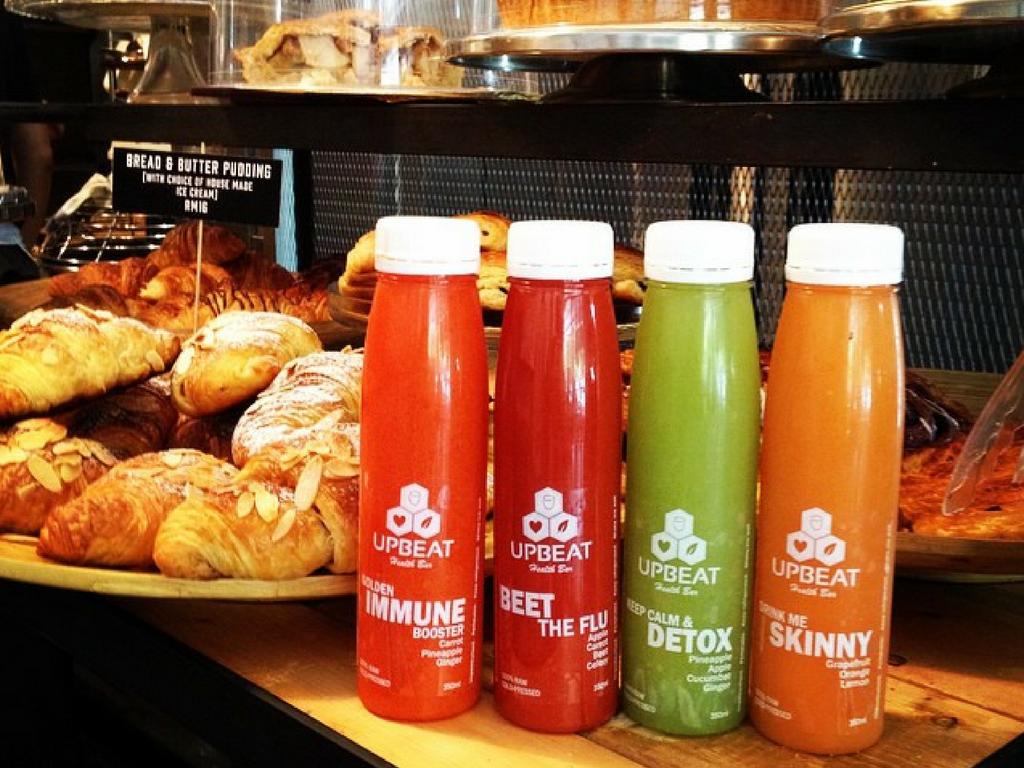 Upbeat Health Bar has been supplying their cold-pressed juice to cafés and restaurants in Klang Valley. Beet The Flu has just the right amount of sweetness from the apple, carrot, beet but it is balanced out with the slight hint of celery flavour. Keep Calm & Detox has the sweetness from pineapple & apple but with the clean refreshing taste from the cucumber and the kick from the ginger!
Fruit cold-pressed drinks are what Upbeat Health Bar would offer you. It would cost you only about RM9.90 or RM11.90 for different flavours such as Keep Calm & Detox as well as Drink Me Skinny. You could try Upbeat Health Bar at Avenue K and also other outlets that they supply to!
Hours: 10am-10pm, Monday-Sunday.
Address: Level 2, No. 2, Avenue K, 156, Jalan Ampang, 50450 Kuala Lumpur, Wilayah Persekutuan Kuala Lumpur.
Website: Upbeat Health Bar
Tel: 017-606 2833
BONUS
15. Strip Juice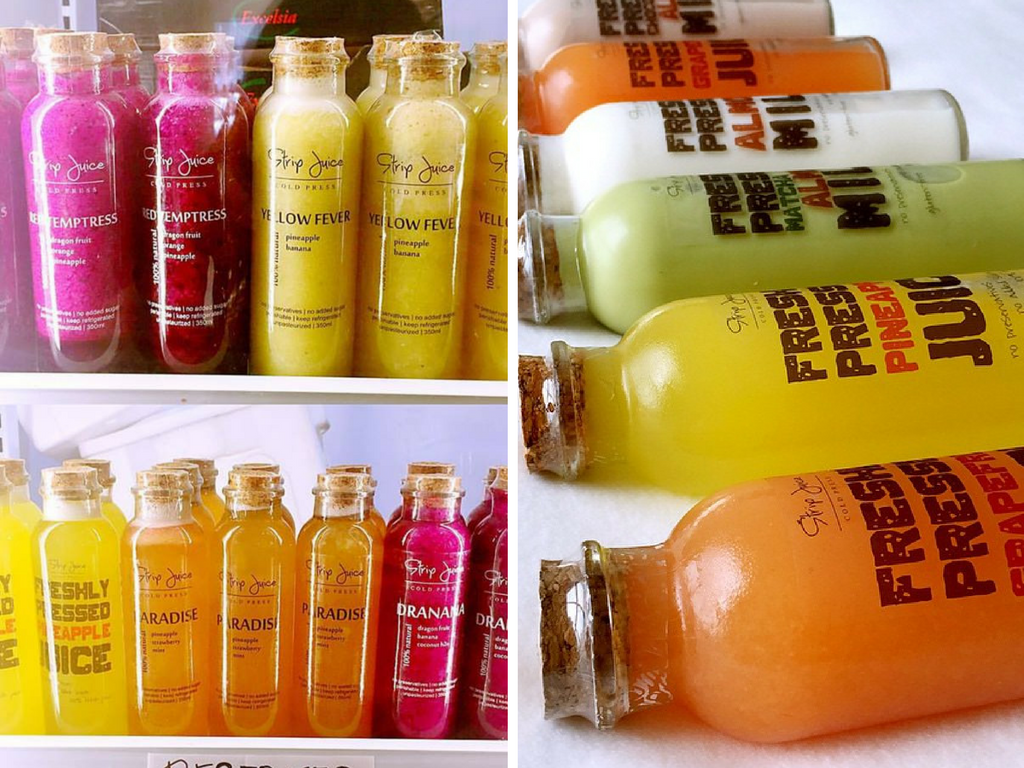 Strip Juice does not do personal deliveries but if you are holding an event and want some nice drinks, Strip Juice would be a good choice for that! Strip Juice only accepts orders above 50 bottles. Considering how there aren't many juiceries which entertains large orders such as this, Strip Juice will be the choice for you during big events.
Hence if you have any corporate events or personal events and you're looking for a refreshing and healthy alternative, why not give them a try. They have flavours such as pineapple as well as dragon fruit. Email them your order and they will send the juices over to your place!
Website: Strip Juice
Email: [email protected]
16. Petite Goodness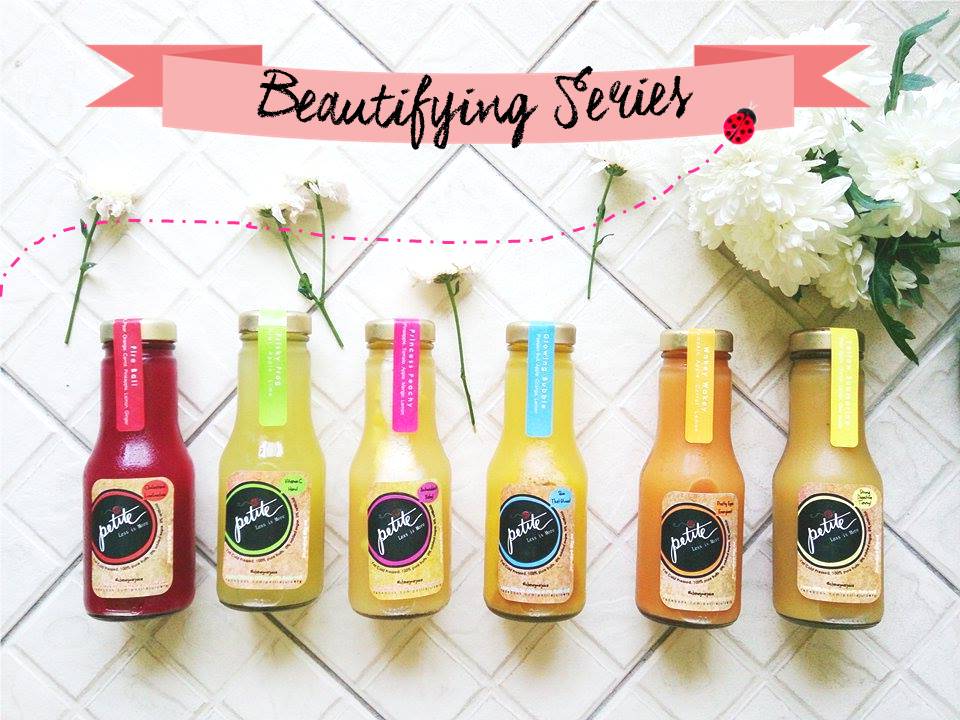 Petite Goodness definitely packs all the flavours in one bottle of juice. One specific flavour is geared towards sleepyheads and is aptly named Wakey Wakey. The juice contains a combination of apple, pumpkin, carrot and lemon, and it will give you all the energy you need for a day. What about Princess Peachy? It contains pineapple, tomato, apple, mango cubes and lemon—ingredients which will help you out on age defense.
The price of one bottle of cold-pressed juice is RM12.90. However, Petite Goodness only accepts bulk orders for events and parties. If you're having a party, Petite Goodness could certainly be your choice on the drinks department. Simply email or PM them on Facebook for your inquiries or orders.
Website: Petite Juicery
Email: [email protected]
Feature Image Credit: www.beautyguide.com.my, @lifestylejuicery, www.kindmeal.my & www.online-instagram.com