"Can we waffle it?" This term may not be familiar several decades ago, but as of late, the trend of placing ordinary ingredients into a waffle making machine has risen in popularity. While the dishes below might not be exact replicas of the waffle machine experiment, they definitely go outside the box in terms of traditional ways of sampling the waffle.
Savoury dishes like fried chicken and waffles as well as duck confit waffles are modern and imaginative creations, and these 6 unconventional waffle dishes are certainly worth making the trip for.
1. Fried Chicken & Waffles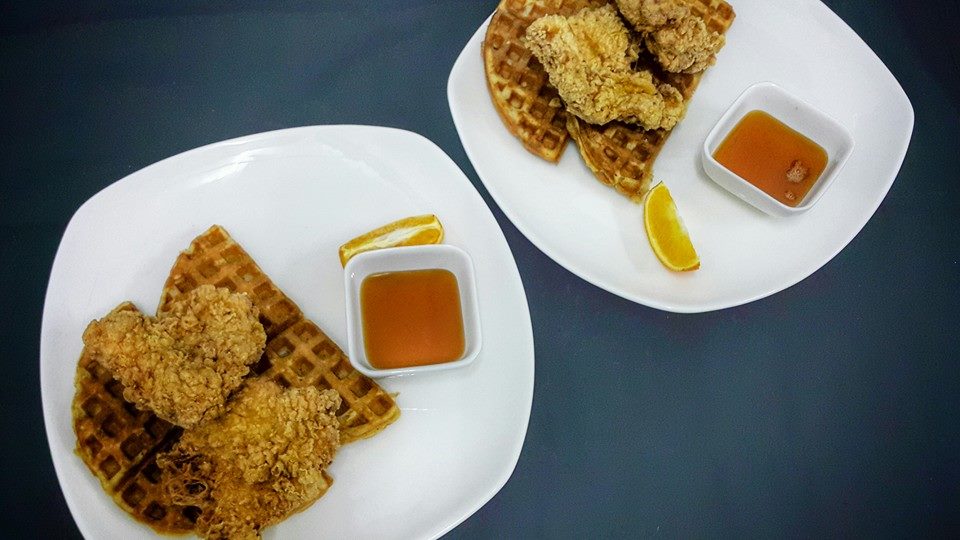 Fried chicken and waffles is a brilliant combination and it becomes a reality with Bisque Café. Crisp succulent proteins are matched with their fluffy other half, which are the waffles. They are later topped off with some syrup. This makes the perfect combination of sweet and savoury and it is a pretty hearty meal indeed!
Bisque Café
Address: LG 08, Emerald Plaza North, Jalan PJU8/3A, Damansara Perdana, 47820 Petaling Jaya.
Tel: 03-7731 8740
Website: Bisque Café
2. Waffle Burger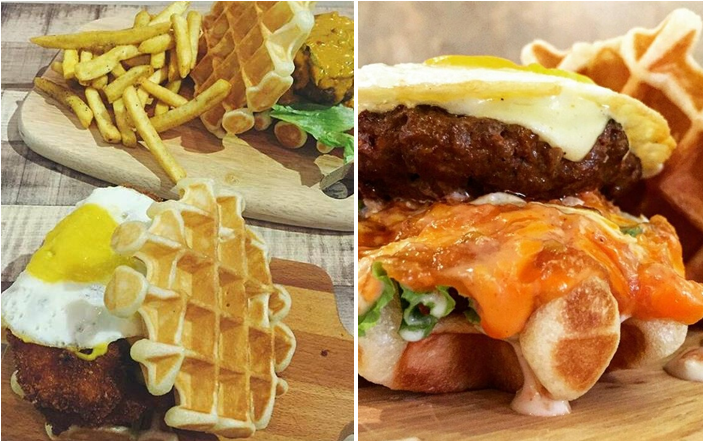 Belgian waffles are used as burger buns at Walffeine in order to keep the ingredients such as a fried egg, burger patty and vegetables in place. But don't be fooled though, the waffles are not just side dishes per se, for they are also very much the star of the show. Have some chips with the dish, and you've got yourself a full meal.
Walffeine
Address: 29, Jalan 21/17, Sea Park, Petaling Jaya 46300.
Tel: 03-7877 7532
Website: Walffeine
3. Cheese Steak Waffle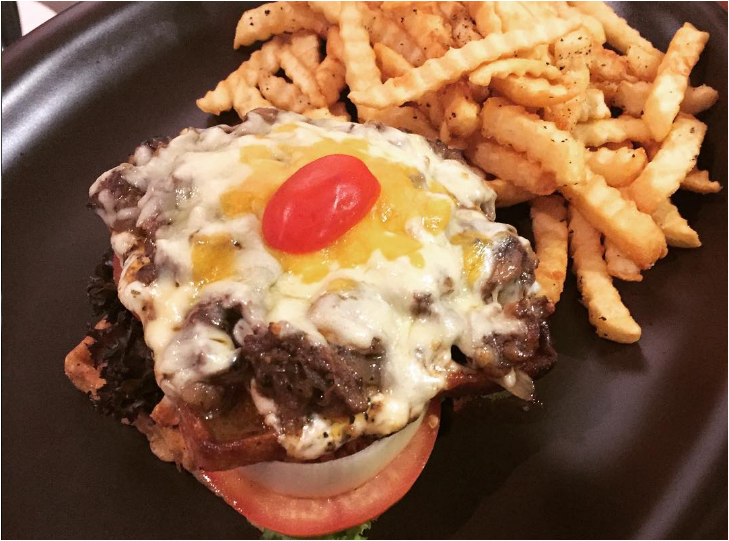 Nobody can pass up a good steak. What more a rich, cheesy one? Two Sons Bistro's spin on the well-loved protein is to combine it with a good ol' waffle and a side of crinkle cut fries. Imagine tucking into a moist piece of steak and forkfuls of waffle at the same time. Pure heaven.
Two Sons Bistro
Address: A4-G2-8, Solaris Dutamas (Publika), Jalan Dutamas 1, 50480 Kuala Lumpur.
Tel: 017-223 8018
Website: Two Sons Bistro
4. Big Breakfast Waffle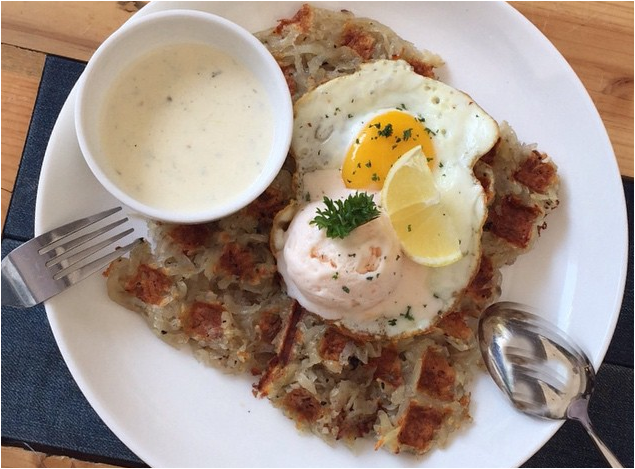 Take your time for your next visit at Whimsical – Gelateria & Caffe. This unique dish would certainly be one that you'd like to take a snapshot of, if not for Instagram, then for memory's sake. After all, where else would you get not only a salmon gelato but a potato rosti as well?!? The fried egg complements the savoury dish, and it certainly is a well-rounded culinary experience you won't soon forget!
Whimsical – Gelateria & Caffe
Address: D2-G3-05, Solaris Dutamas, 1 Jalan Dutamas 1, Kuala Lumpur 50480.
Tel: 03-6419 0966
Website: http://www.whimsicalcaffe.com/
5. Vegetarian Waffle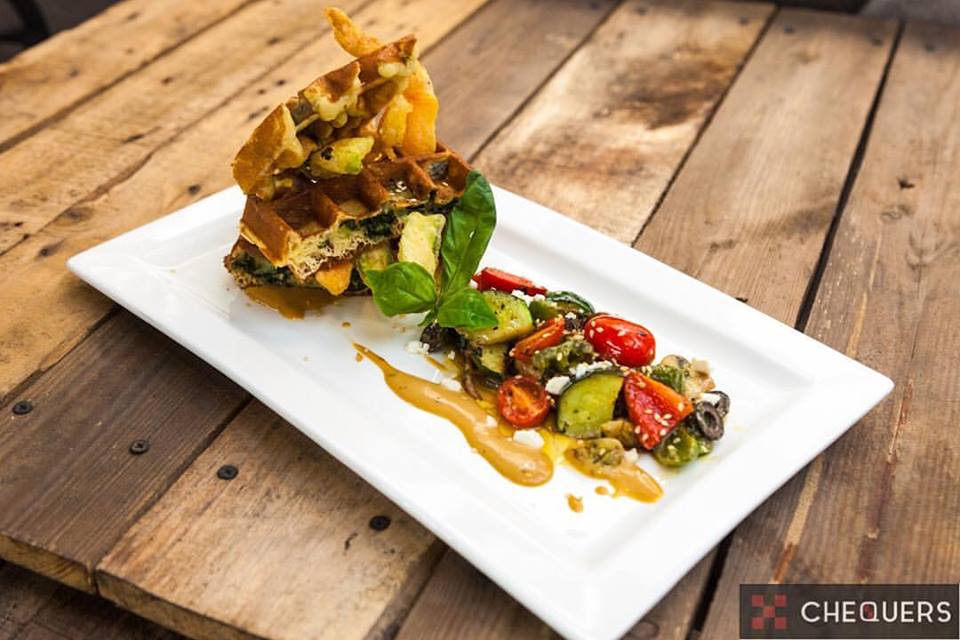 If you're not up for protein-rich waffles, why not try this vegetarian option with okras instead? While there are plenty of waffle pairings with the likes of chicken, eggs, and duck, the vegetarian waffles at Chequers is a unique twist. This version of the waffle is paired with roast vegetables for a healthy twist.
Chequers Café

Address: 153, Jalan Aminuddin Baki, Taman Tun Dr Ismail, 60000 Kuala Lumpur.
Tel: 03-7733 3068
Website: http://chequers.com.my/
6. Smoked Duck Confit Waffle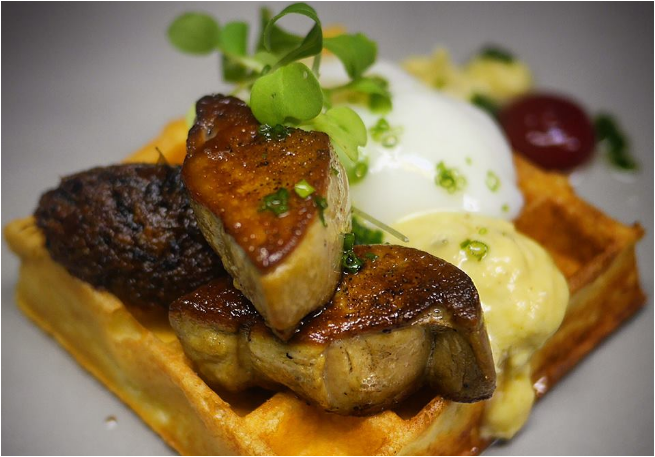 Fancy a fancy waffle? This is a foie gras beni waffle. The elements of this masterpiece are seared foie, homemade buttermilk waffle, and Sitka Restaurant's house specialty, which is the béarnaise sauce. The duck jam and plum ketchup is what truly makes the dish, and that takes it to the next level for sure!
Sitka Restaurant
Address: 8-5, Jalan Batai, Kuala Lumpur 50490.
Tel: 03-2011 1117
Website: Sitka Restaurant
Feature Image Credit: Bisque Café