Have you ever felt like you just want to go somewhere, chill out and listen to some awesome live music? But you can't think of anywhere particularly good to go to so you end up forgetting your plans in the first place? I'm sure most of us have been there before.
Fret not, for our lively city is full of music venues that host all kinds of cool acts, from the mellowest of indie singers to the most hardcore of punk bands. Most of these hidden gems have regular music nights too, so take note of when they have performers playing when planning your next visit!
Merdekarya, PJ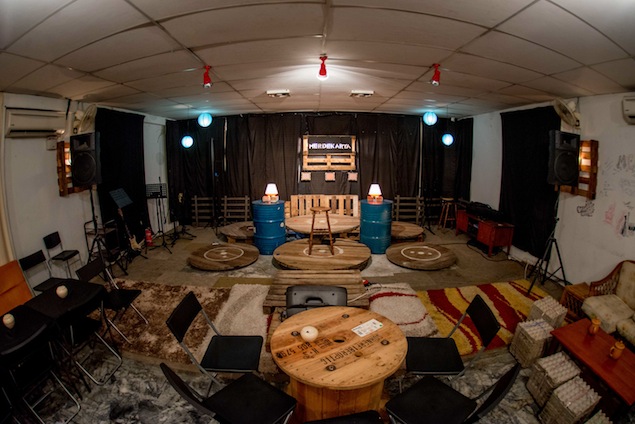 If you want to go to a super chill, laidback place to have some drinks and listen to good music, I'm sure you've already been to Merdekarya before, right? Pronounced 'Merde-kar-ya' (not 'merdeka-ria' like I thought) and located at an unassuming shoplot in Petaling Garden, PJ, this music venue is as indie as it gets. The furniture consists of repurposed wood palettes, drink crates, even stacked egg cartons for seats, the walls are covered in handdrawn murals and art, and the selection of books and CDs being sold are all of the independent, unheard-of sort.
They host live music performances and open mic nights every Tuesday to Saturday, so you're pretty much guaranteed an amazing indie singer or two almost every night. If you yourself are interested in performing for their open mic nights, check out their website to book your slots for the coming months! And if you're having some trouble finding the place on your GPS, according to their website, their address doesn't technically exist (that's so punk rock). They say: "some maps/GPS change Petaling Garden to Bukit Gasing, some to Gasing Indah. We don't know why." Try asking around if you can't find the place!
Address: 352, 1st Floor, Jalan 5/57, Petaling Garden, Section 5, 46000, Petaling Jaya (above Restoran Sun Raj, entrance is through the back alley)
Tel: 016-202 0529 / 016-207 1553
Website: http://www.merdekarya.com/
The Bee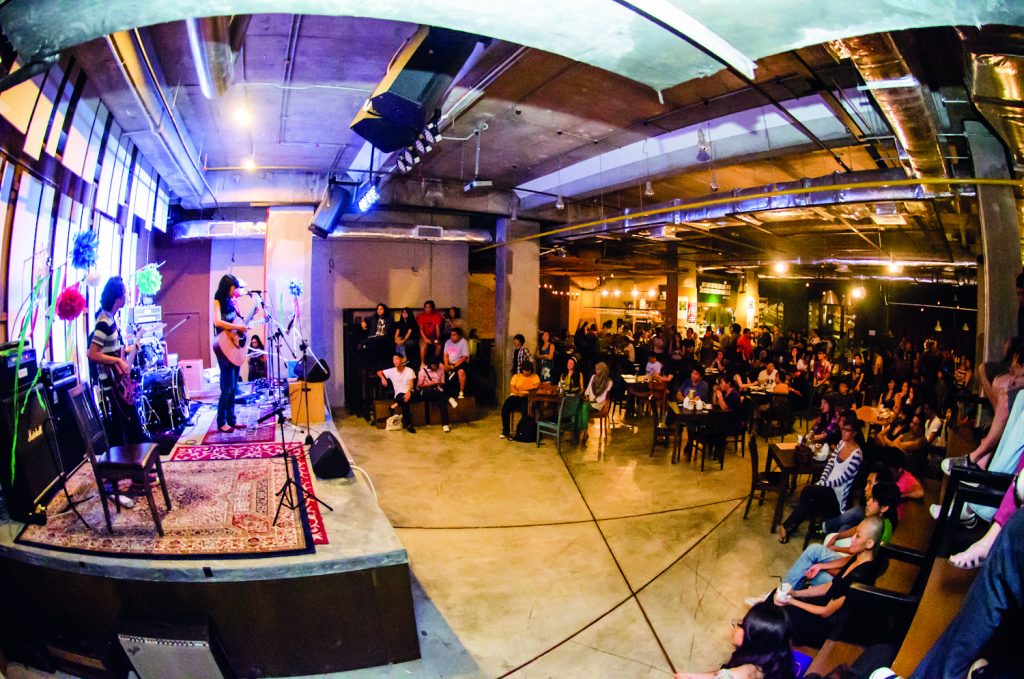 The Bee is a hip restaurant that's already well-known for being a cool music space for both budding performers and high-profile acts alike. Both their outlets, at Jaya One or Publika, have weekly live music acts so you can enjoy some awesome tunes while having your dinner or supper. The artists usually play indie pop or indie rock, and international acts like Grimes, The Vaccines, and A Place To Bury Strangers have all played on their stage before, so they've set the standards real high!
They also organize open mic nights twice a month, and the best performer of the night gets to open for one of their weekly Lot 36 shows. They even stand a chance to win a recording deal! Check out their website or their Facebook page to see this month's scheduled artists and plan your weekly music fix.
Outlets at Publika and Jaya One.
Tel: 03-7960 2160
Website: http://thebee.com.my / https://www.facebook.com/TheBeeMY/
The Garage KL, Ampang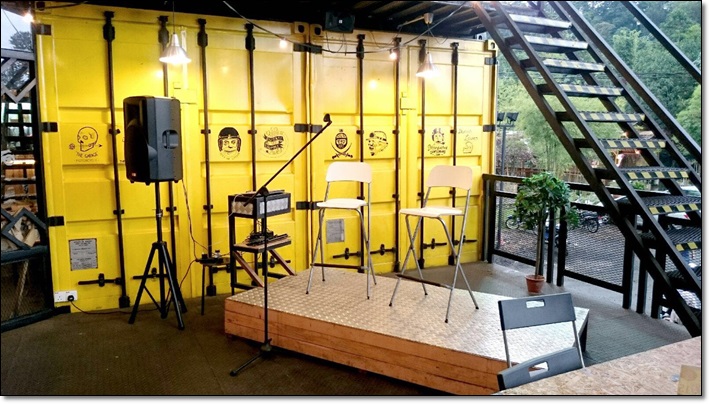 This place has been previously mentioned on a couple of our lists before (here and here), but it deserves a spot on this one too. The Garage KL is known for their 'hipster'-esque décor, cool container structures, and overall industrial vibe, but did you know they host live bands every night too? At 9pm everyday, a performing band or artist will set up on their designated stage and sing their hearts out to you while you're having your dinner. Most of the performers play indie music, or acoustic rock jams, but there's been a little bit of everything played on their stage, really. Don't forget to order a side of their monster freakshakes to go with your night's music!
Address: 841 Jln Hulu Kelang, Hillview, 68000 Ampang, Kuala Lumpur
Hours: 5.30pm to midnight daily
Tel: 03-4266 9776
Website: http://thegaragekl.com
W_are_house, Subang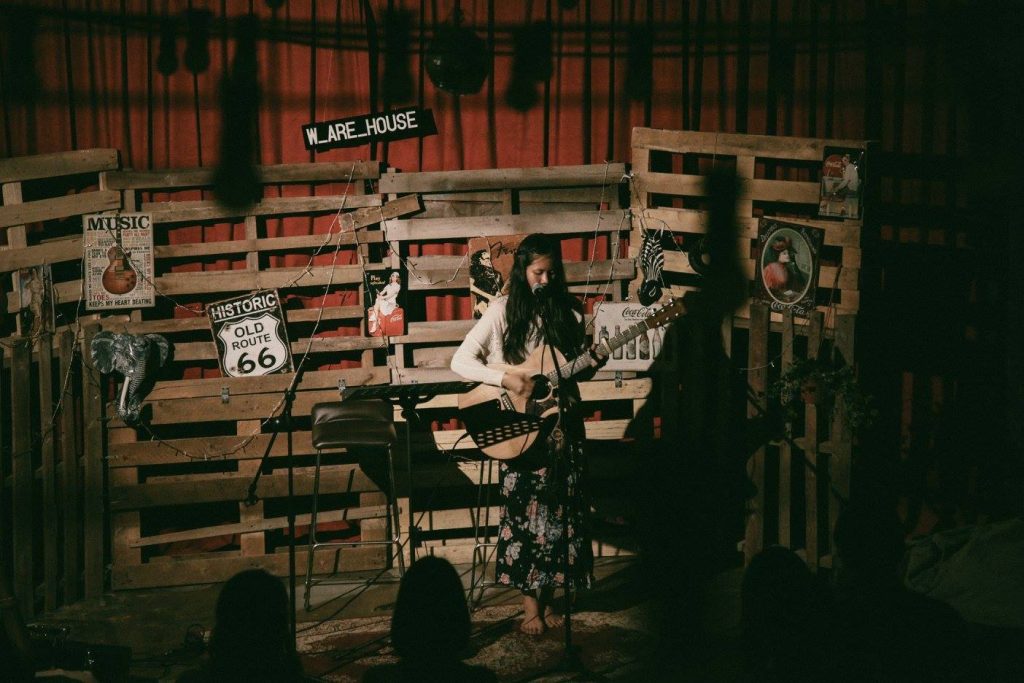 W_are_house is located within a warehouse (get it?), and has been a popular event space for the past year since they've opened. With exposed bricks, cement floors, and chalkboard walls, the place is definitely appealing to today's Instagram youth. Besides being able to host parties, meetings, even weddings, they organize open mic nights every other Thursday, so you'll be able to watch 8 acts throughout the night! Their stage is DIY-ed out of old wood palettes, and it fits the vibe of the place just right. Their performers are usually from the acoustic indie scene, so you'll know what to expect when you show up. You can perform if you're interested too, by signing up at the bar by 10pm during show nights. Enjoy your chilled-out night at W_are_house!
Address: No.11A, Jalan USJ19/2, 47630 Subang Jaya
Open mic hours: 8pm onwards every other Thursday (check their Facebook page for more info)
Tel: 016-718 0908
Website: http://www.w-are-house.com/ / https://www.facebook.com/w.are.houseatusj19/
Fishee Coffee, Bukit Jalil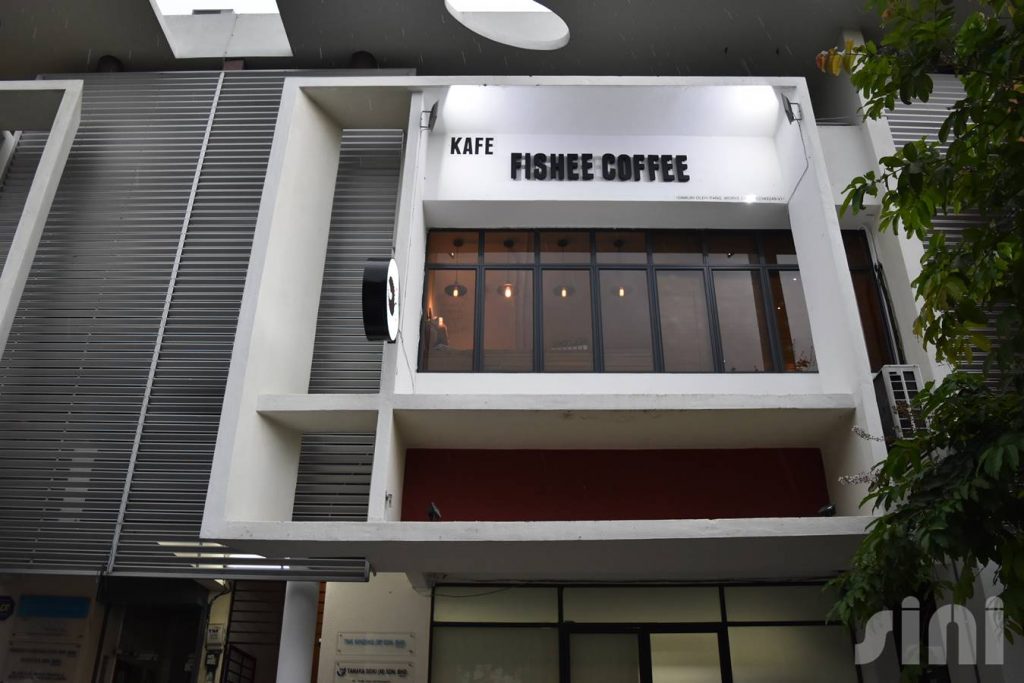 This year-old café, known for their signature Fishee Ball Cake, is also home to live performances every Friday and Saturday night, namely by jazzy duo The Tangs. They perform acoustic, jazzed-up versions of popular songs at the specially created Fishee Music Corner, so feel free to sing along if you know the songs! They've even done themed nights before, like an 80's music theme all throughout May, Acoustic Nights, and even Ballad Night just last week. Check their Facebook page for updates on when their shows are scheduled if you want to drop by. Some great music will be perfect to accompany your waffles and coffee!
Address: 12-20 M (Upstairs), Jalan Jalil Perkasa 13, Arked Esplanad Bukit Jalil, 57000 Kuala Lumpur
Hours: 10am-7pm on Sun-Wed, 10am-11pm on Thurs-Sat, closed on Tuesdays
Tel: 03-8999 2012
Website: http://www.fishee.com.my
Live Fact, Taman Desa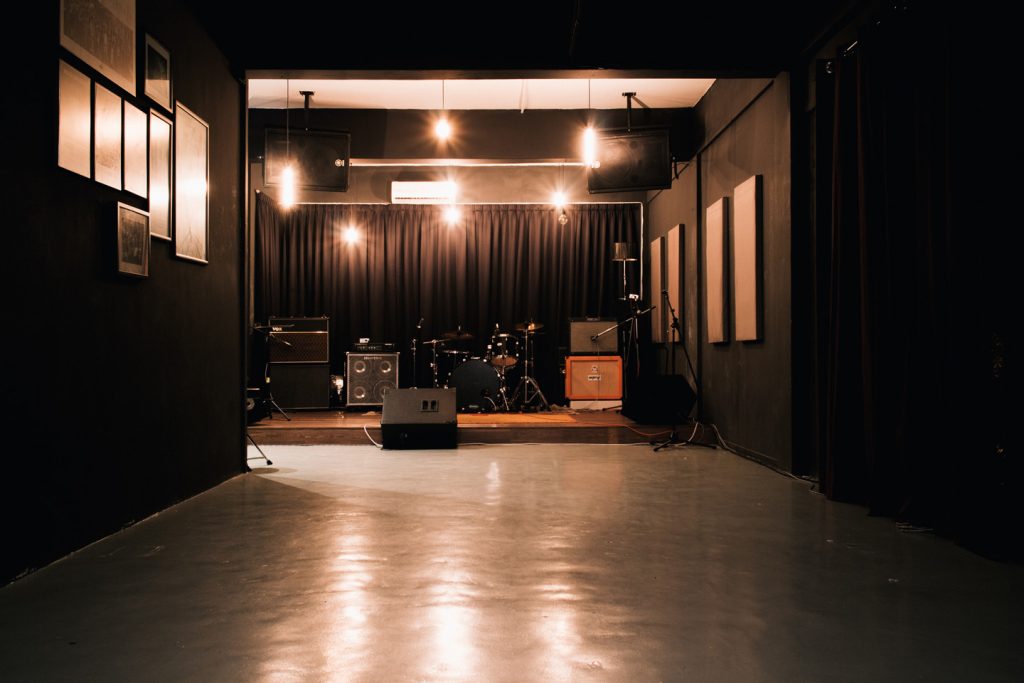 This unassuming, small music venue has been host to various shows over the past year that it's been open, which just goes to show the irresistible pull of good music. It used to be a rehearsal space for bands (well technically it still is) but now its main focus is to be a place for smaller performers to put on their own shows and for music lovers to be able to come whenever they want to enjoy some good performances. It's a very intimate space, so it's the perfect place to make some new friends and fall in love with new bands. The fact that they've hosted over 50 shows within the first five months of operations shows that even their obscure location won't stop fans from showing up to appreciate talent!
Address: No.33-2, Plaza Danau 2, Jalan 3/109f, Taman Danau Desa, 58100 Kuala Lumpur
Tel: 012-377 8558
Website: https://www.facebook.com/LVFCT
Barlai, Jalan Sin Chew Kee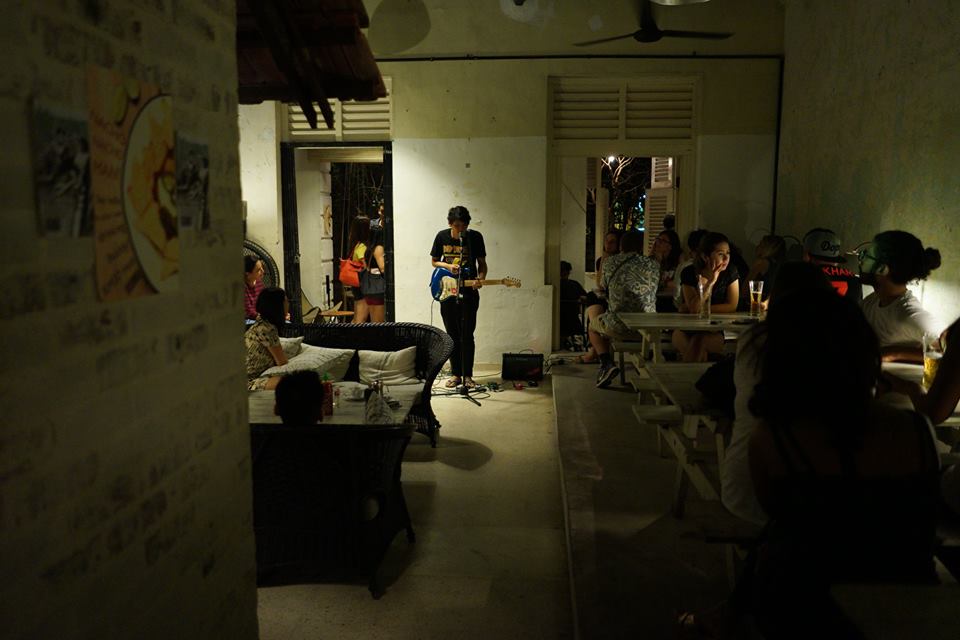 The BIG Group's chilled-out bar/restaurant at Bukit Bintang plays host to bi-monthly open mic nights every other Thursday, so you can listen to great music while enjoying your supper. The old-school heritage building that houses Barlai is the perfect backdrop to casual, acoustic performances that are put on by the artists, and visitors can sit back, relax, and listen in to the open mic shows at ease. Singing along to your favourite songs are also more than welcome! If you're interested in joining yourself, simply drop them a message on Facebook or email [email protected] to book a slot!
Address: 3 Jalan Sin Chew Kee, Bukit Bintang 50150 Kuala Lumpur
Open mic hours: 8pm onwards every 2nd and 4th Thursday of the month
Tel: 03 2141 7850
Website: https://www.facebook.com/BIG.Barlai/
Live House, TREC KL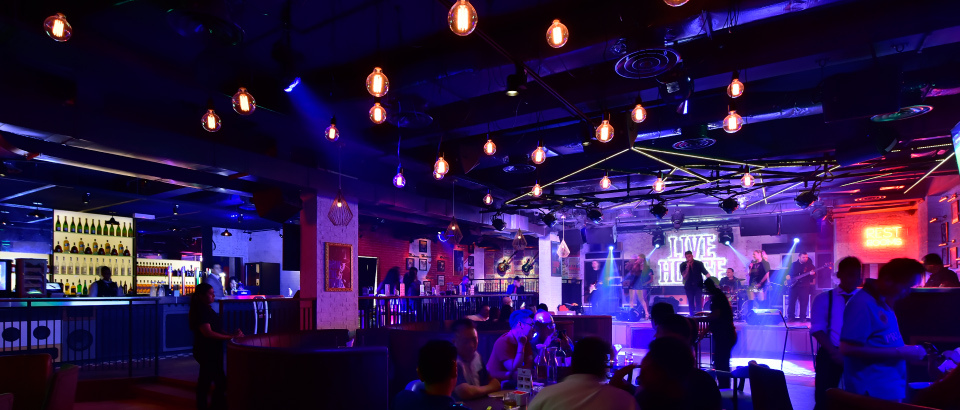 If you're into music, comedy, and good food, Live House is the place to go! Divided into two floors, the lower floor, named the Main Room, is a music venue for all sorts of live bands and DJ sets, while the upper floor, LOL @ Live House, is the venue of choice for comedy acts in the city. There's music performances going on almost every night, from retro jams on Fridays to rock n roll nights on Wednesdays, so there'll be sure to be something for everyone. And if that isn't enough to tide you over, the masterminds behind KGB (Killer Gourmet Burgers) are the ones cooking up a storm in the kitchen, so you know that you're gonna get some good grub!
Address: TREC KL, Jalan Tun Razak, 50400 Kuala Lumpur
Tel: 012-372 2374
Website: http://livehouse.my/
So next time you're craving some live music, you know where to go! Let us know of your favourite places to listen to live performances below!