Burgers. Who doesn't love burgers? There's something for everyone when it comes to burgers, sweet, savoury, meaty, vegetarian, classic, weird, the list goes on. People have also been coming up with their own personalized twists on the infamous meat sandwich, switching up the meat, bread, toppings, and sauces with anything and everything else you can possibly think of (peanut butter and jelly burger, anyone?). But if you're broke and are sick of eating the same old fast-food burgers, worry not for there are plenty of burger joints in the Klang Valley that will serve you a burger for under RM16! Read on to find out where to go to fulfill your burger cravings:
Burger Junkyard, Empire Damansara
Burger Junkyard is famous for their steamed cheese, a blend of smoked mozzarella, pressed cheddar, and processed sharp cheddar, melted together and poured straight onto your burger. If that doesn't sound like the ultimate foodgasm I don't know what is. So to keep it sweet and simple, their classic Steamin' Cheese Burger (RM15.80) features your choice of a beef or chicken patty, with greens, tomatoes, onions, their signature aioli sauce, and a molten heap of cheese like a warm blanket over your burger. Mmm, sounds delicious.
Halal
Address: G-23,Empire Damansara, Jalan PJU8/8, Damansara Perdana, 47820 Petaling Jaya, Selangor
Hours: 12pm-9.45pm, Mon-Sat
Tel: +603-7610 0687
Website: www.burgerjunkyard.my
Harley's, TTDI
Harley's at TTDI serves up wholesome, filling burgers made to order to ensure freshness. Their In-N-Out-style burgers have developed a following, both because of their quality and their affordability. A noteworthy choice would be their crunchy chicken burger (RM6.90), a whole chicken thigh deep-fried in a custom herb and spice mix to crispy perfection, slapped in a bun. Also popular is their 2X2 burger (RM11.90), a double-stacked cheese burger accompanied with lettuce, onions, and tomatoes, if you're feeling like having some protein for dinner.
Halal
Address: 1, Jalan Wan Kadir, Taman Tun Dr Ismail, 6000 Kuala Lumpur
Hours: 11am-11pm, Mon-Sat
Tel: +603-7722 1488
Website: http://facebook.com/harleysmalaysia
KGB Killer Gourmet Burgers, TTDI
This restaurant has a variety of affordable burger options for you to choose from, but if you're feeling for some Mexican flavours, try out the Bobcat burger (RM15.90). Choose between the chicken or beef patties, which will then be topped with roasted green chilies, melty provolone cheese, and a jalapeno mayo to give it that extra zing. If you feel like taking it to Asia, order the Seoul (RM15.90), parmesan-crusted chicken with caramelized kimchi, kimchi mayo, and a sunny side egg sandwiched in a bun. This place will definitely have something for everyone, from all over the world.
Pork-free
Address: 107, Jalan Aminuddin Baki, Taman Tun Dr Ismail, 60000 Kuala Lumpur
Hours: 12pm-3pm and 6pm-10pm daily, closed on Mondays
Tel: +603-77332284
Website: www.kgb.my
Burger Bobby Simpang 3, Keramat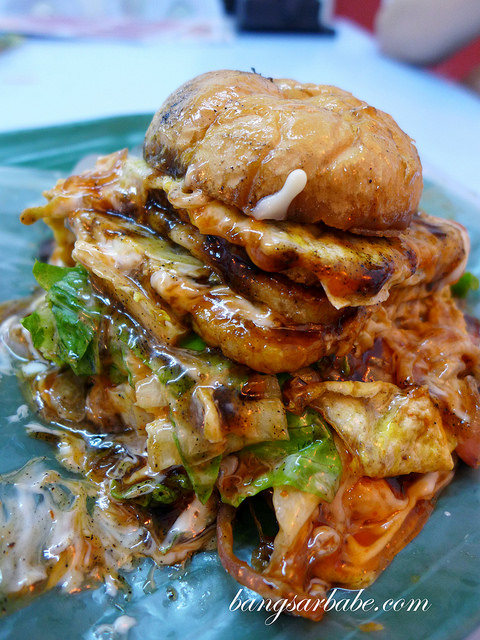 If you're feeling like having some good-old, Malaysian-style, sauce-laden, sky-high burgers, then this is the place for you. Serving up the ultimate sloppy street burgers, this burger joint has its humble beginnings, but has developed a mass of fans over the years since it's been around. Their infamous triple special cheese burger is a hulking mass of beef patty, melting cheese, and Bob's signature homemade sauces spilling out of every crevice. They also serve rabbit or lamb burgers if that's more your style! Prices start from RM3.50 for a single patty, upwards. This is the place to go during cheat days or when you're feeling like you just don't care about the literal mountain of calories that you'll be consuming (cause it's worth it!).
Halal
Address: No 5, Jalan AU5C / 1, Taman Lembah, Lembah Keramat, 68000 Kuala Lumpur
Hours: 4pm-4am daily
Tel: +6013-6402237
Grella's, Wangsa Maju
This burger joint specializes in various lamb and beef dishes, including burgers, steaks, and pastas, and one of their more special burger options is the Bolognese beef burger (RM15.90), which is exactly what it sounds like. A homemade beef patty is smothered in Bolognese sauce and completed with a warm bun. Expect a hearty, rich meal from Grella's that will definitely fill you right up for dinnertime.
Halal
Address: No.19-G, Jalan Wangsa Delima 12, Wangsa Link, Kuala Lumpur
Hours: 12pm-10.30pm daily, 2.30pm-10.30pm on Friday
Tel: +6016-247 4555
Website: https://www.facebook.com/grellasmalaysia/
Myburgerlab, Taman OUG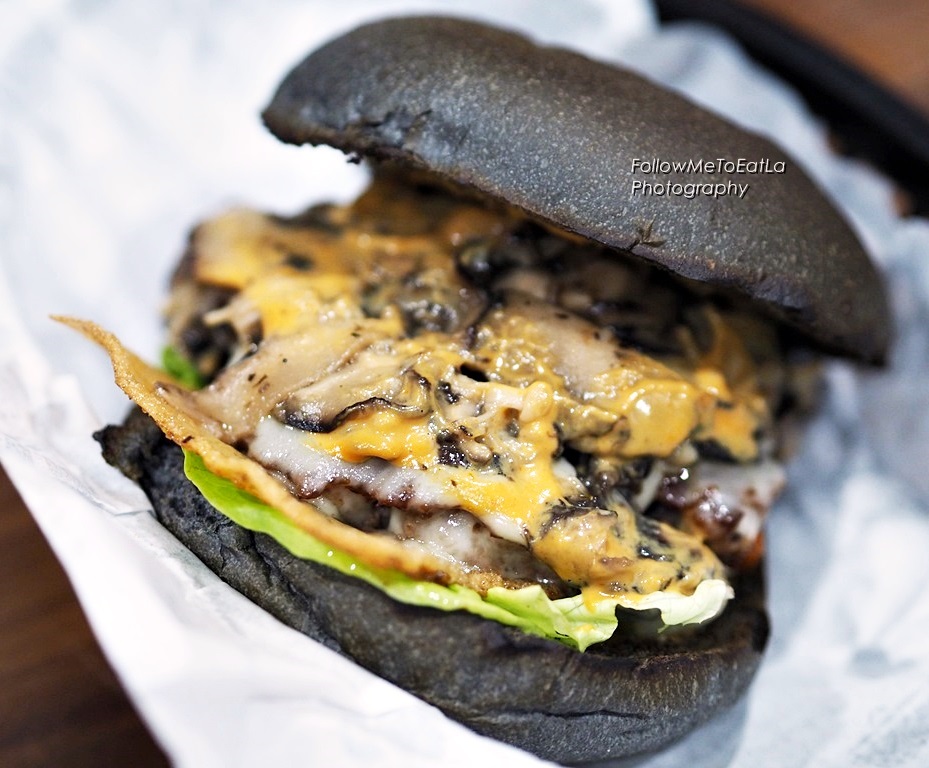 This popular burger joint now has 4 branches in KL and Selangor, so there must be something special about their burgers if people love them that much, right? Well, one of their more unique options is the Tofu Swisstake (RM15), perfect for all you vegetarians out there. A grilled tofu patty is topped with Swiss cheese and Shiitake and Enoki mushrooms, and sandwiched between charcoal buns to bring you the animal-friendly version of a classic mushroom Swiss. It's healthy and it won't break the bank. What's not to like?
Halal
Address: 8, Jalan Awan Hijau, Taman Overseas Union, 58200, Kuala Lumpur
Hours: 5pm-10.15pm daily, closed on first Monday of the month
Tel: +6010-369 5275
Website: www.myburgerlab.com
Choo Choo Chicken, Setapak
https://www.instagram.com/p/BHEyTKBh68T/?tagged=choochoochicken
This Korean restaurant serves up something a little unique for you to try out, a Cham Chi tuna rice burger (RM11.90)! The 'bun' is made up of creamy seaweed rice, with a mixture of tuna, mayonnaise, and kimchi sandwiched in between. This burger has gotten quite a number of fans ever since Choo Choo Chicken opened, so there must be some merit to their praises, right? Perfect for all you Korean food lovers, this is definitely something different that you should try out!
Pork-free
Address: PV128, Jalan Genting Kelang, Danau Kota, 53300 Kuala Lumpur
Hours: 11am – 1030pm daily
Tel: +603-4131 3160
Website: https://www.facebook.com/choochoochickenmalaysia
Burger Bakar Kaw Kaw, Wangsa Maju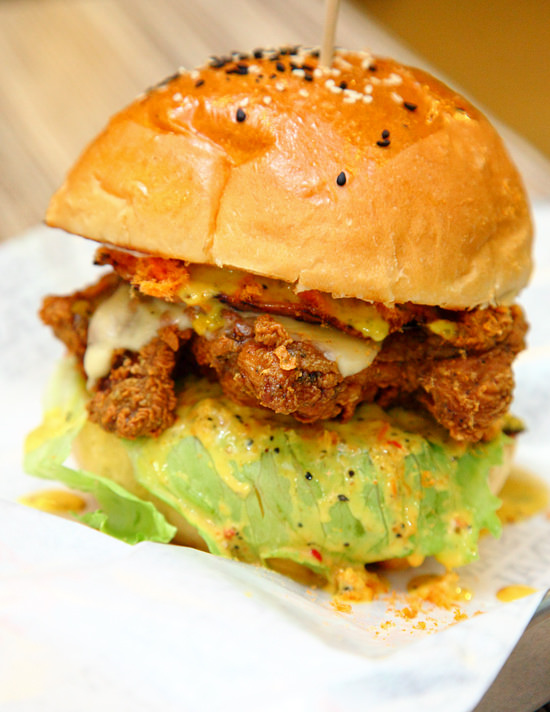 This local burger joint, claiming to be the first ever burger bakar stall in the country, attracts a large, hungry crowd, and it's no wonder why. Their voluptuous, juicy homemade burgers with all sorts of toppings and flavor combinations are definite crowd-pleasers, so be prepared to wait for a while before getting your freshly-flipped burgers. Fan-favourite Cheesy Baconiser (RM11.50) is a towering mass of beef patty, crispy beef bacon, and overflowing cheese, while more unique option Permaisuri (RM11.50) (pictured) consists of a deep-fried chicken thigh, spicy chicken floss infused with lemongrass, mayonnaise, cheese, and beef bacon. With over 12 outlets nationwide, this is a must-try if you haven't already!
Halal
Address: Jalan 4A/27A, Seksyen 2, Wangsa Maju, 53300 Kuala Lumpur
Website: https://www.facebook.com/burgerbakarkawkaworiginal/
Hours: 6pm-2am daily
Tel: +60126276547 / +60173250244
Now you know all the places you can go to fulfil that late-night burger craving. You'll never have to go to McDonalds or Burger King for your burger fix again! What are you waiting for, go forth and stuff your faces with some burgers!