Ever felt like your life was turning upside-down, and everything just feels like they're not where they're supposed to be? Maybe you're due for a visit to the newly opened Upside Down House at KL Tower, a two-storey home that is literally up on its roof.
Here's what it looks like: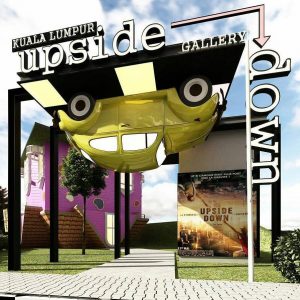 This art installation which just opened its upended doors on the 8th of June features a fully-furnished contemporary, suburban house that is completely upside-down. A bright yellow car, suspended and upturned in the air, will be greeting you from the gates upon arrival. Pretty trippy when you're looking at it in real life!
The attraction claims to be the tallest upside-down house in Malaysia, and the first upside-down house in Kuala Lumpur, following in the footsteps of similar buildings in Melaka, Sabah, and Penang. I sure haven't heard of anything like this nearby before. It aims to be a major visitor attraction in the area, alongside KL Tower, Skybox, and the Bukit Nanas Forest Reserve.
Make sure to take advantage of their opening promotions, where entrance fees for adults are RM15 and fees for children are RM10, from 8th June to 4th August. Now's the perfect chance for you to take mind-boggling pictures of yourself walking around on the ceiling, and leave people scratching their heads in wonder of how you accomplished that feat!
Open daily, 9am-7pm.
Address: Menara Kuala Lumpur , 50250 Kuala Lumpur, Wilayah Persekutuan Kuala Lumpur
Tel: +6010-802 7547
Website: http://facebook.com/klupsidedown