Market goers, bargain hunters and bazaar fanatics, we hope you've been saving some money cause June is the month you'll go broke. But don't worry, it's the happy kind of broke (retail therapy!) as there are 10 markets to help you shop the weekend away! And guess what? Half of them are happening on the same week!
If you plan to go market hopping, this is where you'll pick up some time management and planning skills. Who said you don't learn anything from shopping?
1.Free Night Market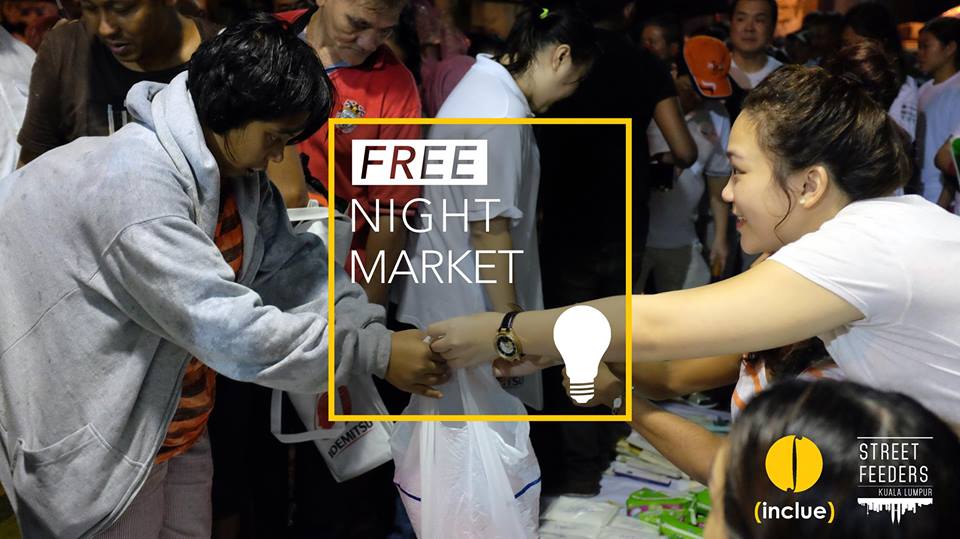 Did someone say free? Yes, everything is free, with no catch. FREE food, books, clothes, accessories, supplies, novelties, skills, conversations, and other items that might surprise you. If you have something to give away for free, bring it! If you don't have anything, come anyway!
Date: 31 May 2016 (not really June but close enough)
Time: 9pm -11.30pm (Set up at 8.30pm)
Venue: Pusat Khidmat Gelandangan, Lorong Medan Tuanku 2 Off Jalan Sultan Ismail
Facebook Event Page: Free Night Market
2. Urban Yard At Setia Walk

One of a kind not your usual H&M dresses, handmade jewellery, geeky toys to every other swaggy accessories… all under one roof over 3 days at Setia Walk Puchong. Need we say more? Don't forget to bring more cash and your shopping bag!
Date: 3 June – 5 June 2016
Time: 12pm-10pm
Venue: Setia Walk Puchong, Persiaran Wawasan, Pusat Bandar Puchong, 47160 Puchong, Selangor
Facebook Event Page: Urban Yard at Setia Walk
3. KL Alternative Bookfest (KLAB) + Art For Grabs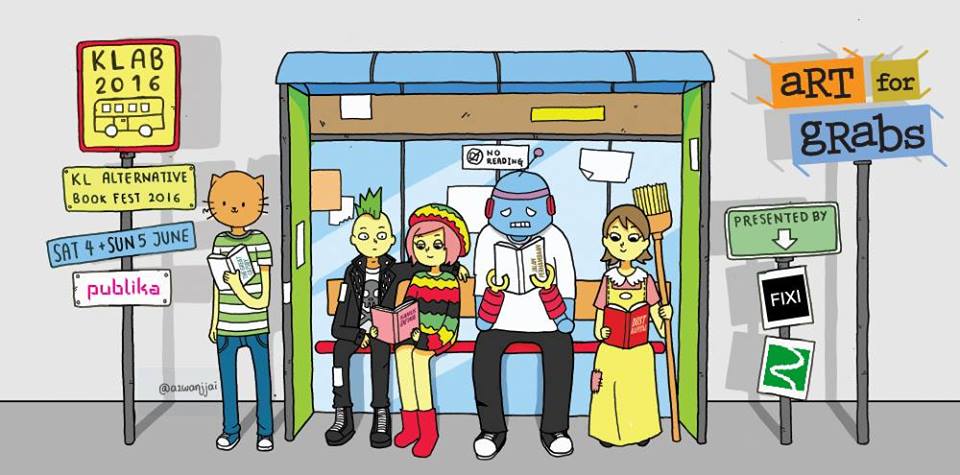 Can't seem to find the right book at mainstream bookstores? Hop on to the KL Alternative Bookfest bus to celebrate the wild and wonderful bunch of Malaysian indie publishers. On top of the 27 publishers of books, comics and zines, there will also be 54 Art For Grabs' booths of handmade awesomeness and 6 other NGOs to support their causes. There will also be a series of forums, talks, book launch and film screening over the weekend (full schedule here).
Date: 4 June – 5 June 2016
Time: 11am- 7pm
Venue: The Boulevard, Level G2, Publika, Solaris Dutamas, 1, Jalan Dutamas 1, 50480 Kuala Lumpur
Facebook Event Page: KLAB+ Art For Grabs
4. From Pen to Paper 3.0

Stationary lovers listen up! Battery Acid Club is hosting a Stationary Market Day!! Just imagine feeling new paper and the gentle scratch of the pen underneath your fingers…OK that's a bit too much but a market showcasing selected stationery items, vintage finds, magazines and print from local designer and stationery enthusiast? That's a big YASS!!
Date: 4 June – 5 June 2016
Time: 11am – 6pm
Venue: Battery Acid Club 21, Jalan SS21/34, Damansara Utama, Petaling Jaya, Selangor
Facebook Event Page: From Pen to Paper 3.0
5. LEGO Flea Market

Love all things LEGO? Come and expand your collection that the LEGO Flea Market this June! Featuring LEGOs from DC Comics, Marvels, Star Wars, Lord Of The Rings, The Hobbit and many more, this is a not-to-be-missed for all toys enthusiasts. And did we mentioned that they also have retired and super rare LEGO sets as well?
Date: 4 June – 5 June 2016
Time: 10am – 6pm
Venue: Syopz Mall, The Boardwalk No.2, Jalan Taylor's 47500 Subang Jaya Selangor
Facebook Event Page: I Luv Lego
 6. The GREEN Bazaar

Thinking to green-up your life? Here's a bazaar with all things eco-friendly and local (yes, we support local products and local producers). And the best part? You can get your children to be involved with the kids activities and at the same time, educate them a thing or two about the importance of a sustainable environment.
Date: 4 June – 5 June
Time: 11am- 6pm
Venue: The School Jaya One, 72A, Jalan Universiti, 46200 Petaling Jaya, Selangor
Facebook Event Page: The GREEN Bazaar
7. Malaysian Makers Market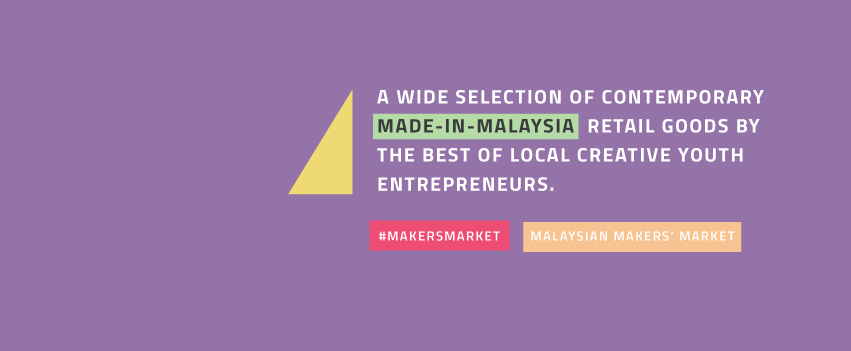 Some might hesitate when it comes to 'made-in-Malaysia' but trust us, our local youth entrepreneurs sure know their craft and you will not want to miss this funday of comfort food, drinks, good music and markets by the best in local creatives.From homewares to brighten up your living spaces, to leather goods and homemade organic soaps, they've got it all.
Date: 5 June 2016
Time: 12pm – 6pm
Venue: The Bee Level G2 Publika , 1 Jalan Dutamas 1, Kuala Lumpur 50480
Facebook Event Page: Malaysian Makers Market
8. Yard Sale Creative Market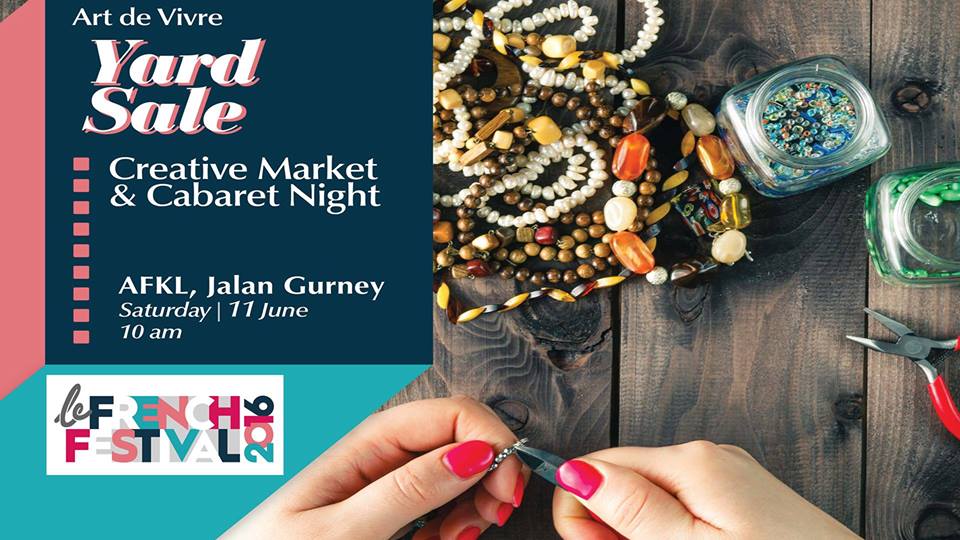 In conjunction of  Le French Festival 2016, Alliance Française de Kuala Lumpur is hosting a yard sale and a mini-market of French amateur designers. Whether you speak the language or not, you are definitely welcome to spend a day in the green surroundings of the Alliance Française garden. There's also a Cabaret Night happening at the same place from 8pm-10pm.
Date: 11 June 2016
Venue: Alliance Française de Kuala Lumpur, 15 Lorong Gurney, 54100 Kuala Lumpur
Time: 10am- 3pm
Facebook Event Page: Yard Sale Creative Market & Cabaret Night
9. Kumamoto Boleh!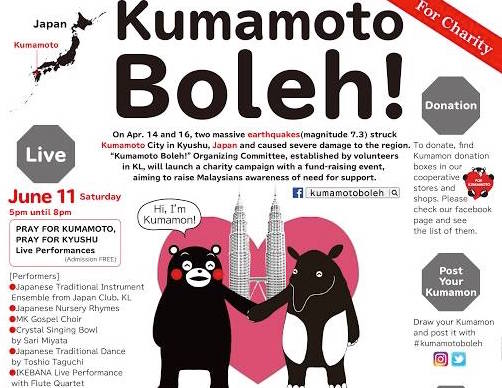 Last April, two massive earthquake struck Kumamoto city in Kyushu, Japan. To ease disaster relief, a group of volunteers in KL came together to organise Kumamoto Boleh!, a charity campaign aiming to raise awareness about the disaster. There will be a charity flea market on the second day of the event with handmade crafts, Japanese character goods, handmade soap, food, Yukata photo taking booth and many more fun activities. This June, why not do some good and shop at the same time?
Date: 12 June 2016 (Charity Flea Market is only available on the 12th of June)
Venue: The Square Publika, Solaris Dutamas, 1, Jalan Dutamas 1, 50480 Kuala Lumpur
Time: 10am
Facebook Event Page: Kumamoto Boleh!
10. Objects For (M) Market

Boys, someone has heard your voices. Finally a pop-up market that is curated specially for the guys! In conjunction with Father's Day, Awegallery is hosting a market that will shift the focus towards the urban man of different age and interests.  This one day only event will be  featuring items such as travel basics, accessories, home goods, stationery, beauty products and many more. Ladies are of course welcomed too.
Date: 18 June 2016
Venue: Awegallery 1, Jalan 20/13, Taman Paramount Petaling Jaya, 46300 Selangor
Time: 12pm – 7pm
Facebook Event Page: Objects For (M) Markets